Taking slick very seriously
December 13, 2007, 15:45 CET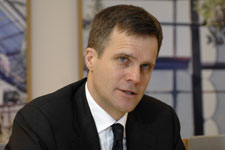 Helge Lund, chief executive officer of StatoilHydro, says that the first priority is to minimise environmental impact.
(Photo: Øyvind Hagen, StatoilHydro)
"Our first priority is to do everything we can to minimise the environmental impact. Furthermore, we have initiated an internal inquiry aimed at clarifying the course of events and the causes. We will be working closely with the authorities to find the cause of this incident," he says.
Thin oil slick
Observations made from aircraft today, 13 December, show that the oil slick caused by yesterday's spill is thin and currently near the Snorre field.
According to the pilots who flew over the affected area, the oil slick is not thick and no emulsion has been observed on the surface.
The slick is currently about 10 kilometres long by five wide. Some minor slicks with traces of oil have also been observed.
Four vessels with offshore oil booms and other types of oil recovery equipment have arrived at the Statfjord area and are prepared to take part in recovery operations. Four tug boats have also been mobilised.
Weather forecasts predict more favourable weather conditions and wave heights between midnight and early Friday morning. A weather window lasting between 24 and 36 hours is forecast, enabling the possible use of booms. A decision on the use of mechanical oil recovery equipment will be taken today.
Experts from the Sintef R&D group and the Norwegian Institute for Nature Research (Nina) have been assigned to investigate the environmental impact by means of water column samples and mapping of bird-life in the area.
Press briefing at 17.00
Mr Lund and executive vice president Tore Torvund of EPN will be available for the press at StatoilHydro's offices in Stavanger at 17.00 hours today, 13 December. The meeting point is StatoilHydro's main entrance.