Production resumed at Kvitebjørn
January 18, 2008, 08:43 CET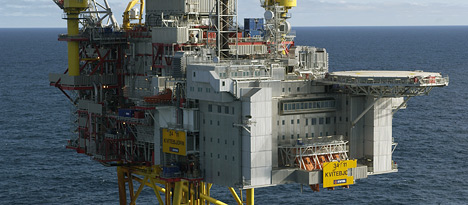 (Photo: Øyvind Hagen)

A routine inspection last autumn revealed that the gas pipeline from Kvitebjørn in the North Sea to the Kollsnes gas plant was shifted out of position by a ship's anchor. The pipeline's weight coating sustained external damage.
The pipeline was shut down for further examinations. Consequently the start-up of production at Kvitebjørn, which was shut down for extensive well operations, was postponed.
Also the gas export from Visund, which uses the pipeline, was affected by the pipeline damage.
Internal and external technical milieus have carried out throrough calculations and evaluations and have collectively decided that the pipeline has sufficient technical integrity and is qualified for temporary operation. The Petroleum Safety Authority Norway has been continuously informed about the work and its conclusions.

The pipeline repairs are weather dependent and will therefore be performed in the summer season.
Production at Kvitebjørn has been resumed, and gas both from Visund and Kvitebjørn is now being transported to Kollsnes.
Kvitebjørn's production was shut down in May 2007 in order to avoid further depressurisation of the reservoirs and to ensure safe drilling of the remaining wells.

At about the same time that the last well in the primary drilling programme was finished, the pipeline damage was discovered – hindering the start up of Kvitebjørn in November 2007.

In October this year the drilling and well community in StatoilHydro won the national Technology Award 2007 for its path-breaking drilling technology on the Kvitebjørn field.
Contact:
Press spokesman Gisle Johanson
Tel: +47 41 44 00 50
Facts about Kvitebørn:
The Kvitebjørn field is located in block 34/11, east of the Gullfaks field in the North Sea
The gas and condensate field came on stream on 26 September 2004
Gas deliveries from the field started on 1 October 2004
According to current plans some 55 billion cubic metres of gas and 22 million cubic metres of condensate will be produced from Kvitebjørn
The platform was installed on the field in the North Sea on 16 May 2003