Svein Rennemo elected new chair of StatoilHydro
January 30, 2008, 14:26 CET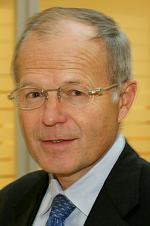 Svein Rennemo
(Photo: Kåre Foss/Hydro)
Svein Rennemo (60) has been chief executive of Petroleum Geo-Services ASA (PGS) since 2002. PGS is a global oilfield service company involved in providing geophysical services.

According to agreement Mr Rennemo will leave his position with PGS on 1 April. To avoid any conflict of interest he will join the board of directors of StatoilHydro after that date.

Marit Arnstad will act as chair of the board until Mr Rennemo takes office.
Svein Rennemo has broad industrial and international experience. Mr Rennemo graduated in economics from the University of Oslo in 1971.

Between 1972 and 1982 he acted as an advisor and analyst in monetary policy and economics at the Central Bank of Norway, the OECD secretariat in Paris and the Norwegian Ministry of Finance. Mr Rennemo held several management positions in Statoil from 1982 to 1994, last as head of the petrochemicals business area.

From 1994-2001 Mr Rennemo worked for Borealis, initially as deputy chief executive and CFO and from 1997 as chief executive. Mr Rennemo is today chair of Statnett SF and Intopto AS. He is also a director of Norsk Hydro ASA, a post he will withdraw from.
From the date Mr Rennemo takes office the board of StatoilHydro will consist of Svein Rennemo (chair), Marit Arnstad (deputy chair), Elisabeth Grieg, Grace Reksten Skaugen, Kjell Bjørndalen, Roy Franklin and Kurt Anker Nielsen as shareholder-elected directors and Lill-Heidi Bakkerud, Claus Clausen and Morten Svaan as employee-elected directors. Ragnar Fritsvold and Geir Nilsen will attend board meetings as representatives of the employees.
Contact:
Ola Morten Aanestad, vice president for media relations, +47 48 08 01 12 (mobile).