Winning ways with scientific knowledge
February 25, 2009, 15:45 CET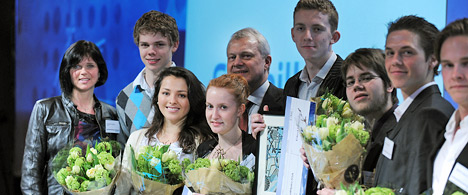 Happy prize-winners were presented with cheques, diplomas and flowers at the Energy seminar in Bergen's Grieghallen concert hall. From left: Wenche Fivelstad of Bergen Science Centre who introduced the winners, Erlend Salvesen Njølstad, Heidi Kristine Vintermyr, Torill Grimstvedt Gloppen, prize presenter Øystein Michelsen, Erlend N Skodbo, Jonas van den Brink, Per Anders Eskås and Bertil Lassesen Ekern. (Photo: Helge Hansen)
The presentation was made by Øystein Michelsen, executive vice president for Exploration & Production Norway, during the group's energy seminar in Bergen's Grieg Hall.
A national jury selected two submissions as this year's country-wide winners – one from Erlend Salvesen Njølstad and Heidi Kristine Vintermyr and the other from Torill Grimstvedt Gloppen.
The first couple attend the Danielsen college of further education in Bergen, while Ms Gloppen is a student at Skeisvang college in Haugesund north of Stavanger.
These three youngsters won NOK 15,000 each and can also look forward to visiting one of StatoilHydro's oil platforms on the Norwegian continental shelf.

(The text continues below)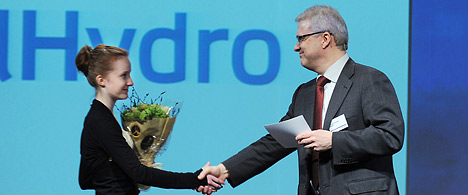 Torill Grimstvedt Gloppen from Skeisvang college of further education in Haugesund receives warm gratulations from StatoilHydro executive vice president Øystein Michelsen. (Photo: Helge Hansen)

Two other pairs were named as regional winners, and could return home from the energy seminar with prizes of NOK 5,000 each and a diploma.
They were Per Anders Eskås and Bertil Lassesen from Stabekk college of further education outside Oslo, and Jonas van den Brink and Erlend N Skodbo.
Originally staged in 2002, the competition is a collaboration between StatoilHydro and Norway's four regional science centres.
These are Want to Know in Bergen, the Norwegian Museum of Science and Technology in Oslo, the Knowledge Centre in Trondheim and the North Norwegian Knowledge Centre in Tromsø.
The contest was initially confined to western Norway through the Bergen centre, but has been conducted nationwide since 2007.
Energy and environment was the topic for this year's event, and Mr Michelsen described submissions from the student competitors as very good.
Their responses have focused on various energy sources and combustion. Students were urged to express their own views and discussions while applying their knowledge of physical laws, formation of carbon dioxide and combustion.
"The contests make big demands on the ability of participants to find information, conduct methodical analyses of issues and see connections," says Mr Michelsen.
"The submissions demonstrate solid knowledge of physics and chemistry, and bear witness to both the curiosity and the comprehension of young Norwegians."
He emphasises that a commitment to technology and science subjects is important.
"Norway is utterly dependent on young people choosing to study the sciences. We face major challenges in developing innovative technology for both petroleum production and new energy forms.
"Our hope is that the StatoilHydro prize can help to boost interest among young Norwegians in studying science subjects."
The StatoilHydro prize

Awarded for a nationwide science competition among students in the second year of a further education course.

Aims to strengthen knowledge of technology and science, and to inspire young people to make a commitment to these subjects in their education.

Students can compete individually or in groups to tackle assignments in chemistry and physics, tailored to the level of expertise required for second-year further education studies.