Consortium for Round 3 announced
February 26, 2009, 08:31 CET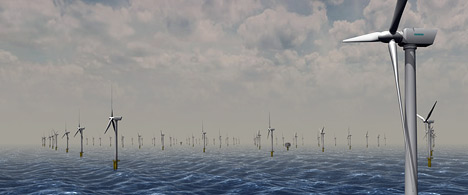 Airtricity, whose parent company is Scottish and Southern Energy Plc, RWE npower renewables, the UK subsidiary of RWE Innogy, and two of Norway's largest companies, Statkraft and StatoilHydro, have formed a consortium to combine their respective expertise, know-how and financial capacity to prepare for a joint bid for Round 3.
Called Forewind, the consortium combines extensive experience of international offshore project delivery and renewables development, construction, asset management and operations, with UK utility expertise spanning the complete electricity value chain.

Project Manager Peter Raftery said that the consortium draws on exceptional organisational resources, financial strength, technical knowledge and a proven track record of offshore project delivery, which combined prepare it well for the extraordinary challenges facing Round 3 developers.
"Each of the four consortium members – all leading players in their own right - recognise that by joining forces we have an ability to make a significant contribution to the future of wind energy in the UK and demonstrate our commitment to the continuing development of offshore wind," he said.
The cooperation will leverage the companies' complementary skills and capabilities in preparing applications and, in the case of being awarded one or more ZDAs, in the development, construction and operation of Round 3 wind farms.
The companies are cooperating on the submission of a single, joint bid for selected Round 3 zones.
Initial media contact, PR & Communications: Sue Vincent, Tel: +44 7768508742
Important market
One of the greatest markets for offshore wind power the UK currently has nearly 400 MW of offshore wind capacity operating.
UK authorities have previously in Rounds 1 and 2 of the programme allocated zones for offshore wind power, and now, under Round 3, they are aiming at another 25 000 MW. This is almost the same as the total wind power capacity in Norway.
The consortium's application to UK authorities will be submitted by 3 March.
The companies involved in the bid are: