StatoilHydro and Statkraft to develop offshore wind farm
April 1, 2009, 09:00 CEST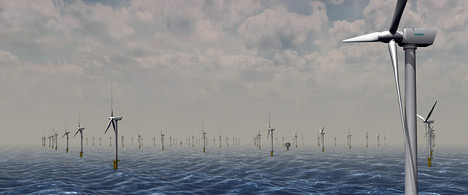 The wind farm, which will consist of 88 turbines, is planned to start production in 2011. When fully operational, its annual electricity production is expected to be around 1.1TWh, enough energy to power around 220,000 UK homes. Total investments are estimated at approximately NOK 10 billion.
Until now, the 315 MW Sheringham Shoal project has been owned 100% by StatoilHydro. Through an agreement, Statkraft will acquire 50% of the shares in the project, thus becoming an equal partner with StatoilHydro.
Sheringham Shoal is ready for construction and will be developed according to schedule, with StatoilHydro as the operator during the construction phase. The Sheringham Shoal Offshore Wind Farm will be the most important wind farm project in both StatoilHydro's and Statkraft's wind energy portfolios. The partnership and the decision to develop the project are a significant milestone in both companies' ambitions in the field of offshore wind.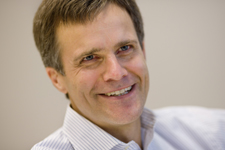 Chief executive Helge Lund
"We are pleased to announce our decision to go ahead with this significant project together with Statkraft. We believe our joint efforts will generate value for both companies, as well as our owners and society as a whole. Gradually developing a stronger position within renewable energy is part of StatoilHydro's long-term strategy. Sheringham Shoal is a good commercial project that demonstrates our determination and capacity in this context," says StatoilHydro's chief executive, Helge Lund.
"Europe is facing massive growth in renewable capacity by 2020, and 50% of the growth is expected to come in wind power. Statkraft is already Europe's largest generator of renewable energy, and it has extensive experience of onshore wind power. The partnership with StatoilHydro will take us into the offshore wind industry as well – which is in line with our core growth strategy and within the investment plans already communicated to the market," says chief executive Bård Mikkelsen of Statkraft.
Sheringham Shoal, between 17 km and 23 km off the coast of the town of Sheringham in northern Norfolk, will cover an area of 35 square kilometres. Construction will begin in early summer 2009, and a gradual start-up of production is scheduled for 2011. The Sheringham Shoal Offshore Wind Farm has received all the approvals needed for construction and operation.
StatoilHydro and Statkraft are also collaborating with SSE/Airtricity and RWE/Npower on the joint venture Forewind, bidding for the third licensing round in the UK.
StatoilHydro and Statkraft will hold a press conference at 11.00 today in StatoilHydro's offices at Vækerø, Oslo. CEO Helge Lund and CEO Bård Mikkelsen will be present.
For further information:
StatoilHydro:
- Vice president Communication Gine Wang, +47 976 94340
- Public affairs manager Øistein Johannessen, + 47 970 79 693
- Vice president Wind Power Anne Strømmen Lycke, +47 97 79 49 66
- Morten Sven Johannessen, IR Officer, +47 909 34 148
Statkraft:
- Press spokesperson Knut Fjerdingstad, +47 901 86 310
- Senior vice president Wind Power Haakon Alfstad, +47 950 79 515
- Vice president Investor Relations Yngve Frøshaug, +47 900 23 021


About the partners:

StatoilHydro is an integrated technology-based international energy company primarily focused on upstream oil and gas operations. Headquartered in Norway, the company has more than 30 years of experience from the Norwegian continental shelf, pioneering complex offshore projects under the toughest conditions. The company's culture is founded on strong values and a high ethical standard. The aim is to deliver long- term growth and continue to develop technologies and manage projects that will meet the world's energy and climate challenges in a sustainable way. StatoilHydro is listed on NYSE and Oslo Stock Exchange.
Statkraft is Europe's largest generator of renewable energy, with a total installed capacity of more than 14,800 MW. The company develops and generates hydropower, wind power, gas power, solar power and district heating, and is a major player on the European energy exchanges. Statkraft opened its first wind farm in 2002 and now owns and operates three onshore wind farms in Norway with a total installed capacity of 244 MW. In the UK, Statkraft has one hydropower plant in operation in Wales, one wind farm under construction in Wales and planning consent for another in Scotland. The company has around 3000 staff in more than 20 countries, and is wholly owned by the Norwegian state.