StatoilHydro enters into an agreement to acquire South Riding Point crude oil terminal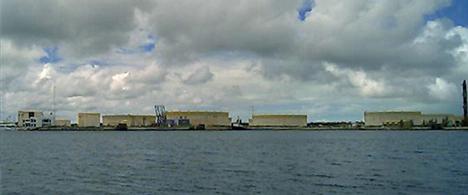 The South Riding Point crude oil storage and transhipment terminal.
StatoilHydro has signed a stock purchase agreement to buy the terminal from the Canadian public company World Point Terminals Inc. The acquisition of South Riding Point terminal includes the crude oil storage and transhipment facility and World Point's 50% interest in the Freepoint Tug and Towing Service tug boat business, both located on Grand Bahama Island. The terminal is located on property leased from a corporation controlled by the government of the Bahamas.
The stock purchase agreement between StatoilHydro and World Point Terminals is conditional upon:
A long term extension of the ground lease with the Bahamian government on terms solely acceptable to StatoilHydro
A satisfactory due diligence
Approvals and necessary clearances from relevant government authorities in the Bahamas.
The purchase price is USD 263.2 million, equivalent to about NOK 1.7 billion.
Jon A Jacobsen, StatoilHydro's executive vice president for Manufacturing & Marketing.
(Photo: Kim Laland)
"The acquisition is a strategic move which supports StatoilHydro's global growth ambition. It will strengthen StatoilHydro's marketing and trading position in North America by securing the full terminal capacity," says Jon A Jacobsen, executive vice president for Manufacturing & Marketing.
"StatoilHydro's objective is to upgrade the terminal to allow for blending of all types of crude oils, including heavy oils," he continues.
StatoilHydro has leased storage capacity at the terminal since 1993. All 55 of the current employees at the terminal will be asked to remain in their current jobs and will be offered permanent positions with StatoilHydro.
South Riding Point is a full member of the Clean Caribbean America (CCA) cooperative. CCA is a clean seas organisation covering the Caribbean and provides equipment and expertise to its member companies to assist in managing waterborne pollution incidents, should they occur. In addition, South Riding Point has its own oil spill response equipment and expertise located on site and at the terminal.
StatoilHydro anticipates receiving all required governmental approvals during the 3rd quarter of 2009 and closing the transaction prior at year-end 2009.
South Riding Point:
Description

Quantity

Tanks
6.75 mill bbls,
(10 storage tanks)
Berths
2 (1 for VLCC)
Employees
55
Contractors
20
Location
Grand Bahama Island
Tugs
5
Press:
Cathrine Torp: tel.+47 415 60 264.