Tune South starts production
July 20, 2009, 10:33 CEST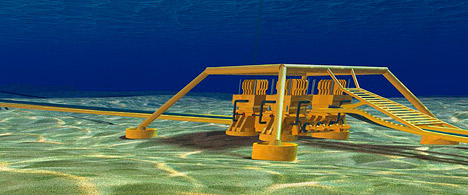 Tune South is tied back to the Oseberg field via the Tune subsea template.
(Illustration: StatoilHydro)
"Output from Tune South is expected to be 1.4 million standard cubic metres of gas per day," says Torstein Hole, senior vice president of the operations west business cluster in StatoilHydro.

"In its first year of production, Tune South will account for 10% of the gas exported from the Oseberg field centre. This will be a key contribution in maintaining the positive production development at Oseberg."

Tune South is developed as a satellite well tied back to the Tune subsea template, 10 kilometres south-west of the Oseberg field centre in the North Sea.

"Tune South utilises free capacity in the existing infrastructure of the Oseberg area. That makes maximum use of the resources in the area," says Hole.

During 20 years of production, the Oseberg area has provided much more oil and gas than was anticipated when the development plans for the field were submitted.

The field's reserves have been more than doubled, from one billion barrels to 2.4 billion barrels of oil. The development of satellite fields such as Tune has been key to this progress.

The Tune, Oseberg western flank, Oseberg South J-structure, Gamma Main Statfjord and Oseberg Delta satellites are contributing more than 170 million barrels og oil equivalent in 2009.

In March StatoilHydro proved even more oil and gas in the Oseberg area's Katla well. This prospect will probably also be developed and tied back to the existing subsea infrastructure in the Oseberg area.

The licensees are StatoilHydro (operator) with 50%, Petoro 40% and Total E&P Norge 10%.

Facts about Tune South
Part of the Tune field – lies mainly in block 30/8/PL190

The field was discovered in 1995. Tune South was proven in 2002.

The plan for development and operation was submitted in 1999, embracing Tune South as a possible future phased development of the field.

Development of Tune South was approved by Hydro in 2005 with the use of equipment originally acquired for Tune North – which was shelved.

The development comprises a single satellite well tied back to Tune Main, as well as modifications to the Oseberg D platform.

Pipeline and umbilical were installed in 2006 and connected to Tune Main

The well was drilled in 2009, and connected to the satellite well in the summer of 2009.

Production began in July 2009.

Expected plateau production from Tune South will be about 1.5 million standard cubic metres of gas per day in 2009-2010.