Successful Smørbukk appraisal well
September 2, 2009, 10:01 CEST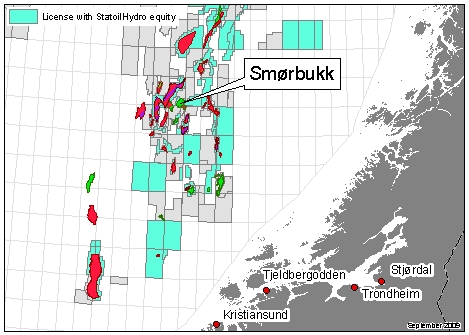 StatoilHydro Petroleum AS, the operator of production licence 094, has completed the drilling of 6506/12-12 S and 6506/12-12 A in the Norwegian Sea.

The result is encouraging and development in association with the Åsgard B platform will be considered.

StatoilHydro has completed the drilling of an appraisal well in the north-eastern segment of the Smørbukk deposit. The proven resources are so far estimated at between 15 and 25 million barrels of recoverable oil equivalent.

"The team has done a great job identifying the area and drilling the appraisal well, and we are very pleased with the result," says Svein Hatlem, vice president for Åsgard production.

Being part of the Åsgard field the segment is included in the plan for development and operation (PUD) of the area.

The Åsgard field development includes 58 production and injection wells divided on 16 subsea templates. Two vessels and one platform are located on the field. Discovered in 1984 the Smørbukk field has been on stream since 1999.

"The proven resources may allow a new subsea template to be tied in to the existing infrastructure on the Åsgard field," says Tore Kulset, asset owner representative for the Smørbukk Northeast project.

"Development would be positive with regard to further activity in the area," Kulset adds. Production from the segment may be possible in three to four years, he suggests.

The main purpose of the well was to confirm the existence of hydrocarbons in Mid/Lower Jurassic reservoir rocks in the north-eastern segment of Smørbukk, and to delineate the discovery.

The well also penetrated the Grizzly prospect in Cretaceous strata. Small amounts of hydrocarbons were struck in sandstone in the Lange/Lysing formations. Extensive data acquisition was performed, but these resources are not expected to be recoverable.

In addition a sidetrack well was drilled for further data acquisition. The sidetrack is prepared for use as a future production well.

The wells were drilled by the semi-submersible Transocean Leader drilling unit.