Crossing energy frontiers
November 2, 2009, 16:16 CET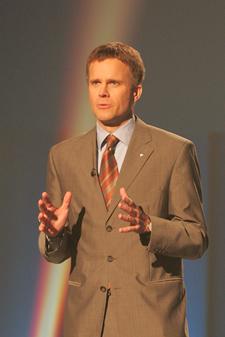 Chief executive Helge Lund talked to Statoil employees in a town hall meeting which was transmitted from a TV studio to group locations worldwide. (Photo: Peter Whyte)
"This vision captures the heritage of our past, where we stand today and how we intend to succeed on our journey towards becoming a global energy company," Lund said from London.
"Crossing frontiers is nothing new for us," he added.
"We're recognised for pioneering projects and achievements. I can't see why we shouldn't continue to be so."
Lund noted in his speech that a frontier was definitely crossed when Statoil and Hydro Oil & Energy merged two years ago.
"And we'll continue to cross frontiers in the future when fulfilling our mission together," he said, and identified three paths in this context:
developing a truly global mindset, increasing diversification and adapting new expertise
seeking the technological solutions of tomorrow to improve competitiveness as the level of complexity increases
continuing to drive for improvements and being at the very forefront in terms of health, safety and the environment.

Course
During the meeting, Lund looked back over the two years since the merger, when the course towards becoming a truly global energy company was staked out.

This period had not been plain sailing, he noted, and had called for great skill in manoeuvring through the greatest economic downturn for decades.

"It might not be over yet. The need for priorities and hard work is still valid. But we're in a strong position to meet future challenges."

Looking internationally, Lund cited several of Statoil's achievements in recent years, including becoming a partner in the Shtokman project.

Others included a strengthened position in the Gulf of Mexico and on Peregrino off Brazil, solid production from Angola, Algeria and Azerbaijan, and important positioning in new areas such as Canadian oil sands and US shale gas.

On the Norwegian continental shelf, he added, Statoil has documented its expertise through projects such as Ormen Lange and Snøhvit.

More than 70 exploration wells have been drilled since the merger, resulting in over 50 discoveries. Five new fields have come on stream, with another three due next year.

Mission
"One of the things which truly unite us is our mission to deliver energy to the world – and our obligation to do that in the right way," Lund emphasised. "How we do it is just as important as what we do.

"Facts tell us that the world will need more energy and less carbon dioxide. To me, helping to resolve this dilemma illustrates the strength of our approach.

"Our mission is not just to accommodate the world's energy needs, but also to do that in a responsible manner."

He was concerned to be able to continue developing the group, so that Statoil can grow geographically and expand its portfolio of energy sources.

The new vision would mobilise the workforce to move the group forward along these lines and strengthen its values-based performance culture.

Logo
The group's service stations will continue to use the Statoil droplet at their logo, Lund affirmed. "It's earned valuable customer loyalty and trust. We'll keep it that way."

"To signify our new vision, however, we'll showcase a new, distinct and differentiating visual identity from today. I felt courageous when we made magenta the colour of our new logo. The star is what brings us all together."

He felt that the star could point the way for a group with a tradition of taking the lead and being a pioneer.

"But remember that being a pioneer carries with it a great responsibility. Where we lead, others will follow. And those who follow must be able to trust in our judgement, in the decisions we make and in the actions we take."