Sinochem to become 40% partner of Statoil in Peregrino oil field in Brazil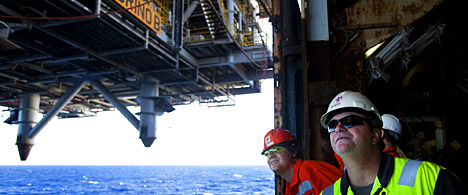 (Photo: Annette Westgård, Statoil)
Sinochem Group will pay a total of USD 3,070 million in cash for the 40% share of the Peregrino field, located in the Campos basin offshore Brazil.
"The transaction confirms the high quality of the Peregrino asset, reflecting Statoil's value added through the field development. The transaction demonstrates Statoil's ability to leverage its industrial competence developed at the Norwegian Continental Shelf, and realise value for our shareholders. The divestment is a natural step in our continuous effort to optimise our portfolio", says Helge Lund, CEO of Statoil.
"We are pleased with the transaction and look forward to partner with Sinochem Group in the further development and operations of the large Peregrino field. Both companies see many opportunities for value creation through increased recovery and exploration for additional resources in the decades to come. I am pleased that we also have agreed to sign a MoU to jointly investigate further opportunities in Brazil and elsewhere", says Lund.
The transaction is subject to government approvals in Brazil and China. The consideration is based on an effective date of January 1st 2010 and subject to customary adjustments.
The divestment of a 40% share of Peregrino will reduce Statoil's equity production guiding for 2012 by 40,000 boepd to a range of 2,060 000 – 2,160 000 boepd.
Brazil will continue to form a key part of Statoil's international strategy. The company remains committed to complete the Peregrino development as planned, operate the field efficiently, and to explore further growth opportunities in the region.
The Peregrino field is located 85 km offshore Brazil in the Campos basin at about 100 meters of water depth in BMC-7 and BMC-47. The first phase of the development includes two drilling- and wellhead platforms and a ship-shaped floating production, storage and offload unit (FPSO). The field was discovered in 1994. Statoil (then Norsk Hydro) acquired 50% in the discovery in 2005, and the remaining 50% and its operatorship in 2008.

Sinochem Group, incorporated in China in 1950, is 100% state owned and is China's 4th largest oil company and the largest integrated agrichemical product and service provider. It has been consistently named as a Fortune Global 500 company and was most recently ranked as the 170th largest company. In 2009 Sinochem Group's sales revenue was approximately US$36 billion, and profit US$0.9billion. Sinochem Group has operated in the international oil business for several decades and started making its first overseas oil and gas investments in 2003. Since then it has successfully completed approximately $1.8 billion of overseas acquisitions in the energy sector, focusing primarily in Latin America, Africa and the Middle East.
Statoil is an international energy company headquartered in Norway. It has more than 35 years of experience from oil and gas production on the Norwegian continental shelf and has currently operations in 40 countries. Statoil is among the world's largest offshore oil and gas operators and is seen as a leader in technology and resource management. Statoil has 29,000 employees worldwide, and is listed on the New York and Oslo stock exchanges with a market capitalisation of approximately USD 70 billion. Equity production in 2009 was 1,962 000 boepd and booked reserves of oil and gas is reported at 5.4 billion barrels. For further information, please visit www.statoil.com.

For further information

Investor relations:
Lars Troen Sørensen, investor relations,
+ 47 906 49 144 (mobile) E-mail: dlts@statoil.com

Media:
Jannik Lindbæk jr, vice president for media relations
+47 977 55 622 (mobile) E-mail: jljr@statoil.com