Hyme approved in record time
June 28, 2011, 14:22 CEST
The approval was given the same day as Norwegian petroleum and energy minister Ola Borten Moe presented the main elements of the Norwegian government's petroleum report. One of the areas mentioned in the report was the aim for quicker PDO decision-making processes.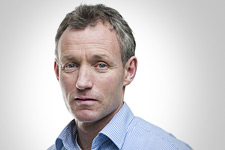 Ivar Aasheim, Statoil's senior vice president for NCS field development
The Hyme PDO is the fourth fast-track development submitted to the MPE this year, following Visund South, Vigdis Northeast and Katla.
"The approval of Hyme in record time shows that fast-track developments now are accepted as an important approach to infrastructure-led discoveries on the Norwegian continental shelf (NCS). By reducing the time from discovery to first oil by means of standardised solutions, we make small-size discoveries profitable," says Ivar Aasheim, Statoil's senior vice president for NCS field development.
Discovered in June 2009, the Hyme field is located 19 kilometres north-east of the Njord field on the Halten Terrace.

The development calls for a production well and a water injection well through a subsea template with four well slots. The field will be tied in to existing infrastructure on the Njord A platform, which has idle processing capacity.
Facts
Location: The Halten Terrace in the Norwegian Sea, 19 kilometres north-east of Njord
Recoverable volumes: 24 million barrels of oil equivalent
Investments: NOK 4.5 billion (current value)
Discovered: June 2009
Production start: Scheduled for the first quarter of 2013
Partners: Statoil (operator) 35%, Petoro 7.5%, GDF SUEZ E&P Norge AS 20%, E.ON Ruhrgas Norge AS 17.5%, VNG Norge AS 2.5% and Norwegian Energy Company ASA 17.5%.