Fourth quarter and preliminary 2011 Operating and Financial Review
February 8, 2012, 07:29 CET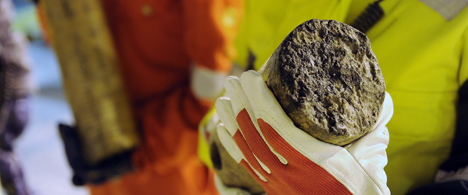 (Photo: Harald Pettersen/Statoil)
In 2011, net operating income was NOK 211.8 billion compared to NOK 137.3 billion in 2010.
"Statoil delivered record financial results, further improved safety and made important strategic progress in 2011," says Helge Lund, Statoil's president and CEO.
The production for 2011 was in line with expectations. During 2011 Statoil completed 41 exploration wells, 22 of which were discoveries.
"We delivered strong exploration results in 2011, adding more than 1 billion barrels to Statoil's resource base. Making high impact discoveries in the mature North Sea as well as in the Barents Sea reaffirms the potential of the Norwegian continental shelf," says Lund.
Statoil achieved a reserve replacement ratio (RRR) of 1.17 in 2011, of which the organic RRR was above 1.0. The RRR for oil was 1.45, including the effect of sales and purchases.
"We have in recent years consistently strengthened our resource base, bringing us to a new level. Our current resource base supports a continued strong reserve replacement going forward," says Lund.
The serious incident frequency (SIF) improved from 1.4 in the fourth quarter of 2010 to 0.9 in the fourth quarter in 2011. For the full year, the SIF was reduced from 1.3 in 2010 to 0.9 in 2011. (*1)
Equity production was 1,975 mboe per day in the fourth quarter of 2011 compared to 1,945 mboe per day in the fourth quarter of 2010. Total equity production was 1,850 mboe per day in 2011, compared to 1,888 mboe per day in 2010.
Cash flows from operations, combined with proceeds from our continued portfolio optimisation, have been strong in 2011. Strategic portfolio optimisation in 2011 includes closing the sell down in Peregrino and Kai Kos Dehseh oil sands, the Gassled divestment, the asset deal with Centrica on the NCS as well as the Brigham acquisition.
"The development of Statoil's project portfolio and strong exploration performance solidify Statoil's strengths on the NCS and further expand the international position," says Lund.
(*1) Numbers excluding the Fuel & Retail segment.
Fourth quarter and annual results 2011

The net operating income in the fourth quarter of 2011 was NOK 60.7 billion compared to NOK 42.8 billion in the fourth quarter of 2010. The increase was largely a result of higher prices for liquids and gas and a NOK 8.5 billion gain on sale of assets, mainly related to the Gassled divestment. Lower volumes of both liquids and gas sold and increased operating expenses partially offset the increase in net operating income.
Adjusted earnings for the fourth quarter of 2011 were NOK 45.9 billion, compared to NOK 40.8 billion in the fourth quarter of 2010.
Adjusted earnings after tax in the fourth quarter of 2011 were NOK 14.5 billion, up from NOK 11.0 billion in the fourth quarter of 2010. The effective tax rate on adjusted earnings was 68.4% and 73.0 % in the fourth quarters of 2011 and 2010, respectively.
Net income in the fourth quarter of 2011 was NOK 25.5 billion compared to NOK 9.7 billion in the same period in 2010. The significant increase stems primarily from higher net operating income and a reduced loss on net financial items, partly offset by increased income taxes. The tax rate for the quarter was 57.7%. Statoil paid NOK 112.6 billion in taxes in 2011, compared to NOK 92.3 billion in 2010.
The board of directors is proposing a dividend of NOK 6.50 per share for 2011. Compared to 2010, when the dividend was NOK 6.25, this is an increase in line with our dividend policy.
Outlook and strategy update

Organic capital expenditures for 2012 (i.e. excluding acquisitions and capital leases), are estimated to be around USD 17 billion including expenditures relating to our new assets from the recent Brigham acquisition.
The Company will continue to mature its large portfolio of exploration assets and expects to complete around 40 wells with a total exploration activity level in 2012 similar to the 2011 level at around USD 3 billion, excluding signature bonuses.
Statoil has an ambition to continue to be in the top quartile, of its peer group, for unit of production cost.
Equity production for 2012 is estimated to grow by around 3% Compound Annual Growth Rate (CAGR) based on the actual 2010 equity production. Deferral of gas production to create value, gas off-take, timing of new capacity coming on stream and operational regularity represent the most significant risks related to the production guidance.
For the period beyond 2012, Statoil has an ambition to reach an equity production above 2.5 mmboe in 2020.
Key events since third quarter 2011

Successful business development, highlighted by the closing of Statoil's acquisition of Brigham Exploration Company in December, positioning Statoil for a stepwise build-up as operator of onshore assets in the United States.
Optimizing the portfolio, through the divestment of the Gassled ownership share, approved by the Ministry of Petroleum and Energy (MPE), and further streamlined our NCS portfolio through the the farm down in three assets through an agreement with Centrica.
International growth, as Statoil was awarded the operatorship for pre-salt blocks 38 and 39 and a partner position in blocks 22, 25 and 40 in the Kwanza basin in Angola.
Further strengthening our resources, as the Espevær appraisal well increased the volume estimates in the former Aldous, now Johan Sverdrup discovery
Further information from:

Investor relations

Hilde Merete Nafstad, senior vice president investor relations, + 47 957 83 911(mobile)
Morten Sven Johannessen, vice president investor relations USA, + 1 203 570 2524 (mobile)

Press
Jannik Lindbæk jr, vice president for media relations, + 47 977 55 622 (mobile)