Hostage situation at In Amenas
January 16, 2013, 21:51 CET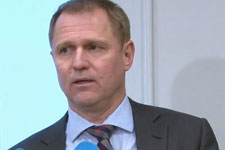 Lars Christian Bacher, executive vice president, Development & Production International
"The hostage situation at In Amenas is one of the most serious incidents we have had in Statoil," says Bacher.
He adds that the situation is unclear, complicated and very demanding.
Statoil was notified Wednesday at 06.50 about the attack which developed into a hostage situation where also Statoil employees are involved.
"Seventeen Statoil employees were in or around the facility Wednesday morning. Thirteen of these are Norwegian. We have received information that five of the 17 are now safe in a military camp in the area," he says.
Four of the five are Norwegians, and one is a Canadian resident. Two people are reported injured and have received medical treatment.
Fully mobilised

"We are continuously monitoring and working to resolve the situation. We are unfortunately unable to provide further details about the situation, the ongoing response or the remaining 12 Statoil employees. This is with regards to the safety of those involved," says Bacher.
Statoil has been in contact with the families of those involved over the course of the day.
"This is a very difficult situation for those who have loved ones, friends and colleagues in the area. We are doing what we can to make sure they get the assistance and care they need and are informed about the situation," he says.
Centre for family members
An assistance centre for family members has been set up in Bergen, and consultation is available here.
Family members may contact the centre by phone at +47 800 83 003.

In Amenas is a wet gas field operated by a joint venture between Sonatrach, BP and Statoil. Statoil immediately mobilised its emergency response team when the news of the attack was received.
"We are cooperating well and have a good dialogue with Norwegian and Algerian authorities in what is an international situation," says Bacher.
Emergency levels are raised at Statoil's facilities in Algeria, and in certain other countries where Statoil are operating as a result of the situation at In Amenas.
Statoil has introduced travel restrictions and other relevant safety measures in the region.