Fast-track development of Delta 2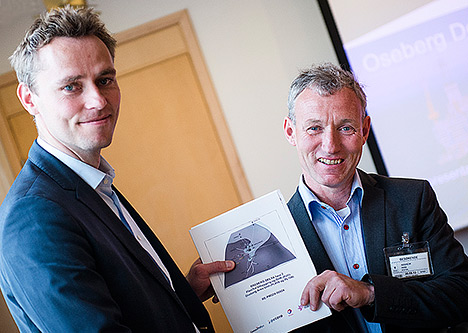 Senior vice president for field development on the Norwegian continental shelf, Ivar Aasheim (right) handed over the Delta 2 plan to Norwegian petroleum and energy minister Ola Borten Moe today. (Photo: Ole Jørgen Bratland)
This development forms part of Statoil's fast-track portfolio.
Senior vice president for field development on the Norwegian continental shelf, Ivar Aasheim, handed over the plan to Norwegian petroleum and energy minister Ola Borten Moe today, 30 May.
"Delta 2 marks an important new step for Statoil and our fast-track development strategy. The fast-track projects will considerably boost Statoil's equity production and will produce 100,000 barrels of oil equivalent daily (boe/d) by the end of 2014," says Aasheim.
The recoverable reserves on Delta 2 are estimated at 77 million barrels of oil equivalent and peak production will amount to 18,000 boe/d. Investment costs are estimated at NOK 7.4 billion (current NOK), and the development is scheduled to come on stream by the end of 2014.
The goal of Statoil's fast-track developments is to recover resources by utilising the existing infrastructure while this is still feasible. These are known as time-critical discoveries.
This concept is suitable for making the development of limited discoveries profitable. The keywords here are exploration close to existing fields, standardisation of equipment, simplified work processes, and solid expertise and organisation.
"Delta 2 is the 11th fast-track development for which Statoil is making an investment decision. Without the fast-track concept many of the discoveries currently being developed would not have been profitable," says Aasheim.
The execution time on fast-track projects has been halved when compared with ordinary projects. The close cooperation between partners, authorities and suppliers makes an important contribution to the swift execution time.
"Another important reason why we have managed to bring the projects on stream with good HSE results, and within the budgeted time and cost framework, is that we have chosen to bring resources into the projects at an early stage. We wanted to achieve continuity through several projects. It is in this way that solid teams are built over time and we are taking these gains with us into the Delta 2 phase," explains Aasheim.
"Delta 2 is being developed using two seabed templates, and the wellstream will be piped to the Oseberg Field Centre. This will be important for Oseberg's total production."