New transaction with Wintershall now completed
December 1, 2014, 11:33 CET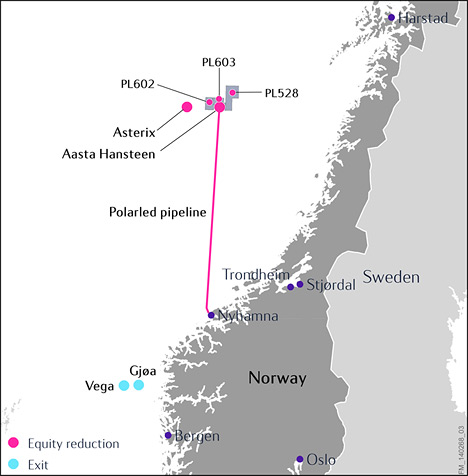 The transaction will enable Statoil to redeploy around USD 1.8 billion of capital expenditure for the period from the effective date until the end of 2020.
Statoil monetises on the Aasta Hansteen field development project, while retaining the operatorship and a 51% equity share. The transaction also includes a farm down in four exploration licenses in the Vøring area.
The transaction consists of a cash consideration of USD 1.25 billion and a USD 50 million consideration contingent on Aasta Hansteen milestones.
Through this transaction Statoil focuses its NCS portfolio and further improves its capacity to invest in core areas.

Active portfolio management is part of Statoil's strategy and this transaction demonstrates the company's ability to capitalise on successful development projects. Statoil will recognise the accounting gain at completion of the transaction. The gain will be accounted for in the fourth quarter of 2014.
Subject to government approval, the operatorship for Vega and the Vega unit will be transferred from Statoil to Wintershall. The two companies expect that such operatorship transfer will take place within the end of the first quarter of 2015.
Overview of transaction
Before
the
transaction

After the
transaction

Transaction

Operatorship

Gjøa
Production licenses 153 and 153B

5%

0%

Full exit

Gdf Suez is operator

Vega
Production licenses 248, 248B and 090C. Production is via subsea tieback to Gjøa installation.

24.525%

0%

Full exit

Transfer of operatorship from Statoil to Wintershall. Subject to government approval

---

Aasta Hansteen
Production licenses 218 and 218 B

75%

51%

Farm down

Statoil is operator

Asterix
Production licenses 327 and 327 B

70%

51%

Farm down

Statoil is operator

Polarled
The Polarled joint venture established under the "NSGI joint venture participants" agreement dated December 21, 2012.

50.331%

37.076%

Farm down

Statoil is operator

---

Exploration license
602

40%

30%

Farm down

Statoil is operator

Exploration license
603

35%

25%

Farm down

Statoil is operator

Exploration license
528

35%

25%

Farm down

Centrica is operator

Exploration license
528 B

35%

25%

Farm down

Centrica is operator