Snorre 2040 project schedule adjustment
December 1, 2014, 13:05 CET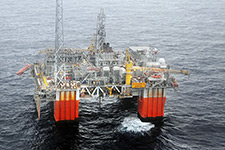 The Snorre B platform in the North Sea.
There is no change in the timing of the final investment decision (DG3) and production start-up (DG4), which are planned for Q4 2016 and Q4 2021, respectively.
The early phase of the project is extended to take full advantage of the improvement potential initiated by Statoil's STEP (Statoil technical efficiency programme) programme and the current focus on cost efficiency within the industry.
Profitability of a new Snorre C platform is challenging and it is important for the owners to secure quality in design and cost estimates prior to entering into FEED studies.
Snorre 2040 background
– The Snorre oil field has been in production since 1992.
– The field has a complex reservoir, and represents one of the largest IOR (increased oil recovery) potentials on the Norwegian continental shelf.
– When the plan for development and operation (PDO) was submitted, the estimated recovery rate was 25%. Currently 35% of the oil is produced and the estimated recovery rate from existing infrastructure is 47% by 2040. The Snorre partners have an ambition to increase the recovery rate to 54% by installing a new Snorre C platform and importing gas to the field.
– The concept selection was made late 2013, and the new Snorre C platform is currently being matured according to plan towards a final investment decision Q4 2016 and production start-up in Q4 2021.