Johan Sverdrup contract to «Pioneering Spirit», the world's largest heavy-lift vessel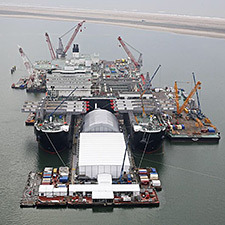 «Pioneering Spirit», the world's largest heavy-lift vessel. (Photo: Allseas)
Allseas will transfer the topsides to Pioneering Spirit before they are transported to the Johan Sverdrup field. On the field Pioneering Spirit will install the topside on the steel jackets.
The drilling platform topsides will be installed in 2018, and the processing and living quarter topsides will follow in 2019.
The vessel has a lifting capacity of 48,000 tons. The heaviest lift will be carried out during installation of the processing platform topside that weighs around 26,000 tons.

After the topsides have been assembled onshore they will be transported offshore for installation. This allows more work related to completion and testing of the topsides to be performed onshore. The number of offshore man-hours will be reduced, which reduces both time and costs.
Constructed in South Korea, "Pioneering Spirit" is currently being completed in Rotterdam.
This contract award is subject to the Norwegian parliament's approval of the plan for development and operation of the Johan Sverdrup field in 2015.