Johan Sverdrup construction has started
June 29, 2015, 09:26 CEST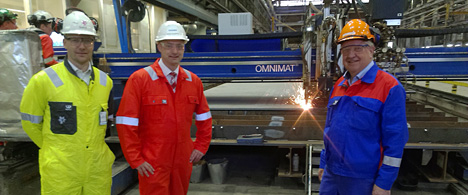 Work on the steel jacket for the Johan Sverdrup field's riser platform has started. From the left: Kjetel Digre, senior vice president for the Johan Sverdrup development project (Statoil), minister of labour and social affairs Robert Eriksson and executive vice president jackets Sverre Myklebust (Kværner).
(Photo: Arne Reidar Mortensen - Statoil)
Production of the first elements on the Johan Sverdrup project has begun. On Monday 29 June Kværner metal worker Stian Myrvold Green started up the machine that will cut the steel for the riser platform jacket on the Johan Sverdrup field.
"This is a special day. We've been working thoroughly for a long time making the preparations for this exciting and complex project. It feels great now that we've started construction on one of the biggest industrial projects in Europe," says senior vice president for the Johan Sverdrup development project, Kjetel Digre.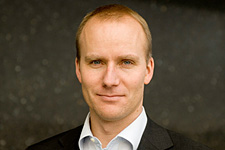 Kjetel Digre, senior vice president for the Johan Sverdrup development project. (Photo: Statoil)
The steel jacket now being built at Kværner Verdal will weigh 26 500 tonnes, making it the biggest steel jacket in Europe.
"The steel jacket will also be one of the most complex ever built by the industry. Not only will we route the land-based power through the jacket, we'll also be controlling the subsea water injection and exporting the field's oil and gas from it. In addition, we're also preparing to tie in future phases of the Johan Sverdrup field development to the riser platform. In building this jacket, we're in fact making preparations to take in as many as 56 conduits," Digre says.
The steel jacket for the riser platform will be transported and installed on the Johan Sverdrup field in 2017. Due to its size, the jacket will be shipped out to the field on the biggest barge in the world for this type of transport, Heeremas H-851. In order to receive the 260 metre-long barge, the quay at Kværner Verdal is being upgraded.
The steel jacket is not the only Johan Sverdrup element currently under construction. The 246-tonne template for the wells, to be pre-drilled on the field from March 2016, is being produced at Vlissingen in The Netherlands. The well template will be installed on the field in the course of the summer/autumn 2015.
"We've got an ambitious plan to bring Johan Sverdrup on stream in late 2019 and in accordance with this plan, we've now started to produce first building bricks for the project," says Digre.
The Johan Sverdrup partnership consists of Statoil, Lundin Norway, Petoro, Det norske oljeselskap and Maersk Oil. The partnership has recommended that Statoil be operator for all the field's phases.