New head of Statoil media relations
September 18, 2015, 12:52 CEST
Glad Pedersen will as vice president media relations head the corporate press office and take on the role as corporate spokesperson. He succeeds Jannik Lindbæk jr, who is appointed vice president for the communication unit in Global business service.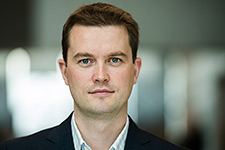 Bård Glad Pedersen
(Photo: Ole Jørgen Bratland)
Glad Pedersen comes from the position as state secretary (deputy minister) in the Norwegian Ministry of Foreign Affairs. He will join Statoil after having served his potential quarantine leaving his current position.
Bård Glad Pedersen was spokesperson for Statoil's international activities until he was appointed state secretary in 2013.
"It's a great pleasure to welcome Bård Glad Pedersen back to Statoil. He has both in his previous role with us and as state secretary demonstrated deep insight and understanding for today's media environment, the complexity it represents and what it demands of a company like Statoil", says Statoil's senior vice president corporate communication Reidar Gjærum.
Glad Pedersen holds a degree in business administration from University of Nordland, and has served as a political adviser and state secretary in the Ministry of Defense as well as head of communication for the Conservative Party's Parliamentary Group and in the communication agency Burson Marsteller.
Knut Rostad, spokesperson international business, is acting head of media relations until Glad Pedersen takes up his position.