Firefly offshore wind farm
Shortcut to this page: equinor.com/fireflywind
Firefly wind farm is planned for an area of 2 x 75 km2 approximately 70 km off the coast of the city of Ulsan in South Korea. The floating offshore wind project has a total potential of around 800 MW.
Equinor plans to reach an installed net renewables capacity of 12-16 gigawatts by 2030. Two-thirds of this within offshore wind. We are stepping up to become a global offshore wind major, and we see strong potential for offshore wind in South Korea, a country we consider to be an important market for floating offshore wind going forward. South Korea has large potential and offers attractive opportunities within offshore wind.
November 2020: To date, we have signed a general collaboration Memorandum of Understanding (MoU) with all developers and Ulsan city and a third party MoU with the Offshore wind project countermeasures committee and Ulsan City.
에퀴노르는 한국이 해상풍력에 강한 잠재력을 가지고 있고 부유식 해상 풍력의 중요한 시장이라고 보고 있다.
에퀴노르는 반딧불 부유식 해상 풍력단지를 개발하고 있으며, 파트너사인 한국석유공사, 동서발전과 함께 부유식 해상풍력 프로젝트인 동해-1의 개발도 목표로 하고 있다.
두 프로젝트 모두 울산 앞바다에 위치해 있다.

현재까지 울산시에서 개발을 추진중인 모든 개발사와 울산시가 참여한 MoU와 해상풍력사업대책위원회, 울산시와 제3자 MoU를 체결했다.
Key facts
Floater steel semi-sub with 3 mooring lines
O&M base onshore (~70 km)

Business case
Two Lidars deployed June 2020
One year of measurements gives right to apply for Electric Power Licence
100% Equinor (partner expected)


Targeted timeline
Lidar measurements 2020
Consent and grid agreements 2022/23
FID 2023
Fabrication 2023/24/25
Installation 2025/26
COD 2026/27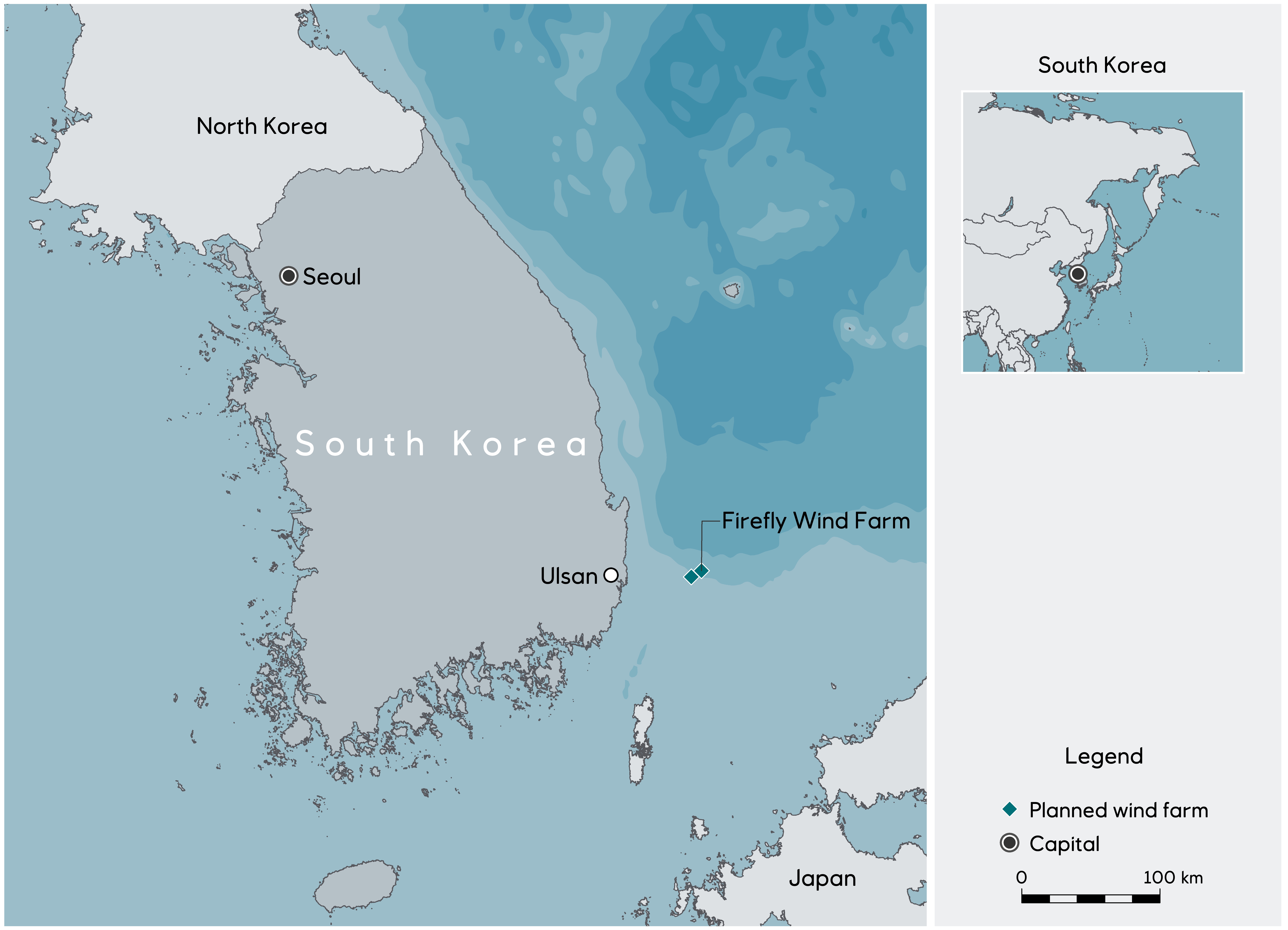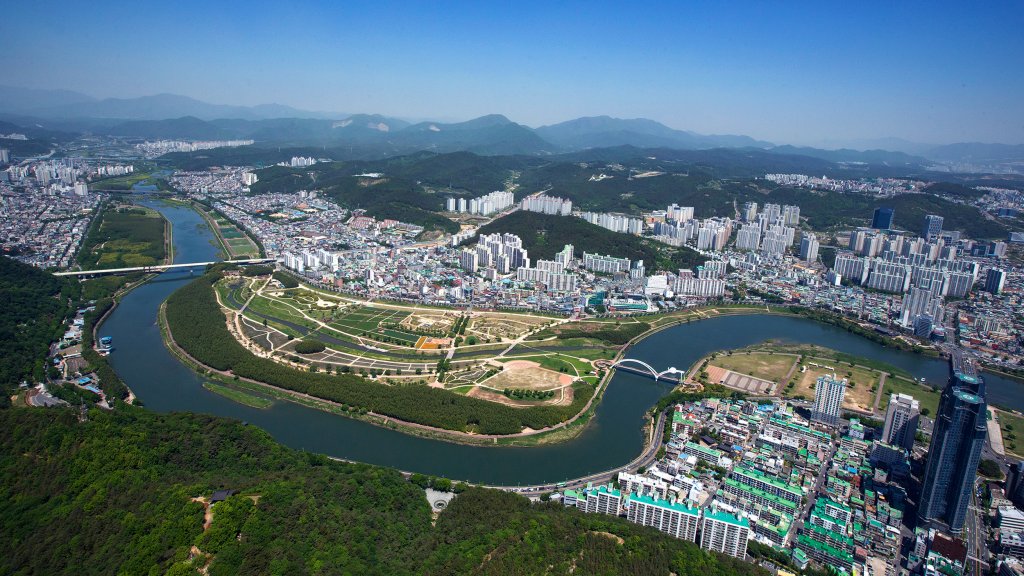 South Korea is transforming its energy mix from nuclear power and coal to renewable energy. The share of renewable energy in its power production is estimated to increase to 20% by 2030; aiming to add 49GW to its renewable production capacity by 2030, of which solar power accounts for 36,5GW and wind power 17,7GW.
Equinor opened our country office in South Korea in 2014, and since then we have carried out the construction of the topsides for the Mariner and Aasta Hansteen platforms, the Aasta Hansteen hull, two Category-J rigs, and two platforms for Johan Sverdrup in South Korea.

As a broad energy company developing oil, gas, wind and solar, we see a broad potential for developing offshore wind off the Korean coastline. In addition to developing the Firefly Wind Farm, we are aiming to develop a 200 MW floating offshore wind farm off the coast of Ulsan together with our partners Korean National Oil Company and East West Power.

About Equinor
Equinor is a broad energy company, developing oil, gas, wind and solar. Find out more about us below.

Equinor is keen to receive feedback from local stakeholders and those working in our supply chain.

Office phone number:
Tel: +82 (0)10 8323 5480
Email: UlsanFOW@equinor.com
Office address:
Equinor SK - Busan
22 Fl., KNN Tower, 30 Centumseo-ro, Haeundae-gu, Busan
Deploying floating LiDARs
Equinor has started conducting wind measurements needed to further look into the possibility of developing and constructing a floating offshore wind project off the coast of Ulsan in South Korea.
In June 2020, the floating offshore wind project Firefly passed an important milestone when two floating wind resource measurement buoys (LiDARs) were deployed in the East Sea offshore Ulsan. Over a period of one year, these LiDARs will conduct metocean data measurements.
The LiDAR buoys delivered by RPS will be moored some 80 km out to sea, collecting wind and wave data to determine the resource viability.

The wind and wave data gathered through this measurement campaign will serve as an important basis for the further development of the project. A year's worth of certified measurements will allow Equinor to apply for a power business licence for (EBL) the wind farm.

We are looking forward to collaborating with partners, stakeholders and suppliers as we see strong potential in developing floating offshore wind in South Korea.