Upgrading Norwegian oil and gas fields
April 10, 2008, 11:28 CEST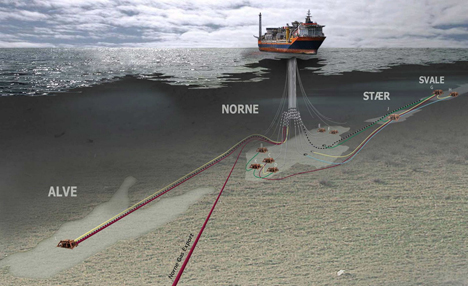 The illustration shows the planned tie-in of Alve to Norne during the longest scheduled shutdown this year.
The upgrading is in keeping with the company's focus on maintenance and modifications aimed at increased robustness of the facilities and improved oil and gas recovery on the Norwegian continental shelf (NCS).
Replaced a swivel
The most extensive turnaround is being conducted on the Norne FPSO vessel in the Norwegian Sea. For the first time ever a swivel will be replaced offshore. This has previously only been done on vessels in dry-docks.
The new swivel will contain two extra tubings, which will increase the production capacity. Swivel replacement is necessary in order to enable the Norne vessel to receive gas and condensate from the Alve field, scheduled to come on stream towards the end of the year.
The new swivel will also increase the production capacity and regularity from existing production wells.
In addition a high-voltage swivel will be installed. It is intended to prevent hydrate formation in the Alve pipeline and open for future installation of subsea pumps.
The turnaround is planned to last for one and a half month.
Considerable maintenance work and modifications will be performed on the Statfjord C and Snorre A platforms as part of the Statfjord Late Life and Snorre Redevelopment Projects.
Also the Kvitebjørn and Kristin platforms will conduct capacity upgrading work.
Maintenance and necessary inspections will be performed on all installations where scheduled shutdowns take place.
Extensive scope of work
A total of 270,000 man-hours will be performed offshore during the turnarounds. The work will be performed by employees both in StatoilHydro and the supply companies along the coast.
"We have a long-term perspective for the development of our activities on the NCS and invest considerable amounts in maintenance and modifications aimed at increased robustness and improved oil and gas production from the fields we operate," says Torstein Hole, the head of operations development, StatoilHydro.
Turnarounds in StatoilHydro 2008 will affect the following platforms and facilities:
Statfjord C, Snorre B, Gullfaks A, Gullfaks B, Brage, Visund, Njord, Melkøya LNG, Norne, Troll B, Troll C, Huldra, Snorre A, Troll A, Kvitebjørn, Heimdal, Vale, Vilje, Sleipner A, Sleipner B & T, Glitne, Åsgard B, Kristin, Mongstad
Table: Reduced production (liquid) per quarter boe/day
The expected production loss to StatoilHydro related to turnarounds on the NCS in 2008 is 10.4 million barrels of oil equivalent (liquid production). The estimates for production losses are included in StatoilHydro's production forecast for 2008 communicated at the Capital Market Day on 9 January 2008.
| | | |
| --- | --- | --- |
| | Total mill boe | 1000 boe/day |
| 1st quarter | | |
| 2nd quarter | 3,9 | 42,9 |
| 3rd quarter | 6,5 | 70,3 |
| 4th quarter | | |
| 2008 | 10,4 | 28,3 |