Gudrun concept chosen
January 20, 2009, 09:00 CET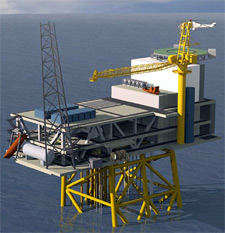 The Gudrun platform
The platform is to be developed as a fixed processing platform with seven production wells and will be tied back to existing facilities in the Sleipner area and the Kårstø processing plant north of Stavanger.
Plans also call for connecting a subsea system on the Sigrun field to the future platform on the Gudrun field.
The Gudrun field is located 55 kilometres north of Sleipner and water depth in the area is 110 metres. The field contains both oil and gas.
Old discovery – new opportunities
The field was proven in 1974 and StatoilHydro became operator in 1997.

The reservoir is complex with high pressure and high temperature, however, the estimated recoverable volume of 150 million barrels of oil equivalent will contribute heavily on the Norwegian continental shelf in the time ahead.

New technology, more information about the area and the existing infrastructure have led to the field development now being realised.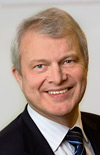 Øystein Michelsen
There are also several exciting prospects and high activity in the area.

"On behalf of the licence we are pleased to present a concept for implementing such a project," says Øystein Michelsen, executive vice president for Exploration & Production Norway. "We have seen this possibility for many years, and now we will further develop this project together."
Final decision in 2009
A final decision on the development is yet to be made and is scheduled for 2009. The plan will be evaluated to ensure a good and profitable development.
StatoilHydro (46.8%) is the operator and the partners are Marathon Norge, a wholly owned subsidiary of Marathon Oil Corporation (28.2%) and GDF SUEZ E&P Norge (25%).