Signing framework agreement for Gudrun modifications at Sleipner
July 14, 2010, 10:06 CEST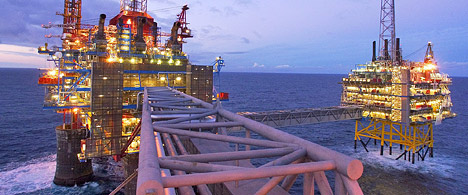 On Sleipner the oil and gas from Gudrun will be processed before further export. (Photo: Dag Myrestrand)
To start with the agreement covers modifications of the Sleipner A and Sleipner T platforms as part of the Gudrun field development.
Aker Solutions has been awarded the framework agreement in strong competition with other market players. The agreement includes engineering, purchasing, fabrication and installation of equipment.

The intention of the agreement is to ensure the best possible utilisation of the Sleipner installations for tie-back of new fields in the area.
"The market has shown strong interest in this contract and the competition has been good," says Geir Bjaanes, Statoil's procurement manager for the Gudrun project. "Aker Solutions delivered the overall best tender."
Sleipner will process oil and gas from Gudrun in addition to supplying power to the Gudrun platform.

The gas will be processed on Sleipner A before it is transported to Sleipner T for carbon dioxide removal. The gas will be transported to the gas markets from Sleipner A.

The oil is received at Sleipner A for stabilisation. Water and salts are removed before export to the Kårstø processing plant north of Stavanger.
The Sleipner area has been, and will continue to be, one of the most interesting areas on the Norwegian continental shelf (NCS). The Gudrun development is a major field development project in the Sleipner area, and this framework agreement will be an important tool for efficient execution of ongoing and future development projects.
The Gudrun field is one of Statoil's largest development projects on the NCS. It contains around 127 million barrels of oil equivalent. The contract for constructing the steel jacket has already been awarded to Aker Solutions, and the contract for transport and installation of the jacket and the topside has been awarded to Saipem.