Positioning gas in growth markets
September 20, 2010, 13:51 CEST
This was a key message at a press seminar in Oslo today, where Rune Bjørnson, executive vice president for Statoil's Natural Gas business area, presented.
Statoil is today the second largest supplier of natural gas to Europe, marketing about 75% of all produced gas from the Norwegian continental shelf.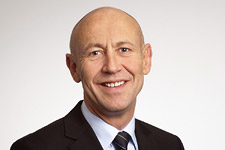 Rune Bjørnson, executive vice president for Statoil's Natural Gas business area
The main part of these volumes – about 80-90% – is sold under long-term contracts concluded in the 1980s and 1990s with large European buyers.

The bulk of these contracts gas have an oil indexed pricing, and developments in the oil price are accordingly significant for the export value of Norwegian gas.

Additional gas volumes are typically sold in the spot market. "Spot-market prices are relatively high in an historical perspective, even though prices have declined from the 2008 peak," Bjørnson said.

He also pointed out that the forward price curve is currently pointing upwards.

Price growth forecasts build in part on expectations that total global demand for gas will increase by about 30% during the next two decades, largely driven by an increased gas demand for electricity generation.

In Europe alone, which is Statoil's core market, consumption in the power sector is expected to grow around 20% up to 2030.

Statoil has additional gas for sale over the coming decade as volumes in some of its existing sales contracts start to decline and other contracts will expire.

"We're now assessing a number of sales alternatives for this gas with a view to achieving better prices than we can get by simply selling all at European liquid hubs," said Bjørnson.

These include new long-term contracts with new or existing customers, increasing direct sales to distributors and industrial end-users, and increasing the sale of gas to the power sector.

"We expect that large proportions of our gas will continue to be sold under long-term contracts to large energy companies," said Bjørnson.
"But market liberalisation in Europe also gives us access to new customer segments, such as large end-users."

The power segment is regarded as an interesting sales channel. Over 30% of European power capacity is more than 40 years old and needs to be replaced.
According to Bjørnson, gas represents a very competitive option compared to alternative energy sources and gas does not require subsidies.

Gas is also attractive from a climate perspective, with carbon emissions declining up to 70% if an old coal-fired power station is replaced by a modern gas fired power station.
"We're well positioned," said Bjørnson. "Prices are relatively high, demand is expected to grow in all markets and we can access several alternative channels when marketing new volumes."