Statoil enters Bakken and Three Forks oil plays through cash acquisition of Brigham Exploration Company
October 17, 2011, 12:37 CEST
Statoil ASA (OSE: STL, NYSE: STO) and Brigham Exploration Company (NASDAQ: BEXP) announced today that they have entered into a merger agreement for Statoil to acquire all of the outstanding shares of Brigham for USD 36.5 per share through an all-cash tender offer.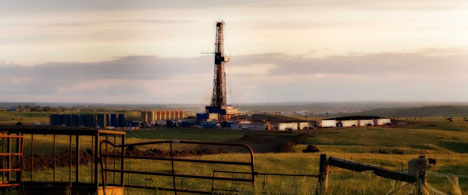 The Brigham Board of Directors has unanimously recommended to its shareholders that they accept the offer. Ben "Bud" M. Brigham, Chairman, President and CEO and the other executive officers and directors of Brigham, who collectively own approximately 2.5% of the outstanding shares, have agreed to tender all of their shares.

The total equity value is approximately USD 4.4 billion, reflecting an enterprise value of approximately USD 4.7 billion, based on June 30, 2011 net debt.

Brigham, based in Austin, Texas, has over 100 employees in Austin and North Dakota and a strong position in the attractive Bakken and Three Forks tight oil plays in the Williston Basin in North Dakota and Montana.

"The US unconventional plays hold a substantial resource base and represent an increasingly important part of future energy supplies. Statoil has step by step developed industrial capabilities through early entrance into Marcellus and Eagle Ford. Entering the Bakken and Three Forks tight oil plays and taking on operatorship represents a new significant step for Statoil. We are positioning ourselves as a leading player in the fast growing US onshore oil and gas industry, in line with the strategic direction we have set out," says Helge Lund, President and CEO of Statoil.

The transaction will provide Statoil with more than 375,000 net acres in the Williston Basin, which holds potential for oil production from the Bakken and Three Forks formations. Brigham also holds interests in 40,000 net acres in other areas. At this early stage of development the risked resource base is estimated at 300-500 million barrels of oil equivalent (boe), equity. Current equity production is approximately 21,000 boe per day, and the acreage has potential to ramp up to 60,000-100,000 boe per day equity production over a five year period.

The Bakken and Three Forks formations are among the largest oil accumulations in the United States. Various sources have estimated the technically recoverable reserves to be in the range of 5 — 24 billion boe, over a 38,000 square kilometers area. The attractiveness of the Bakken and Three Forks plays has resulted in Statoil offering a 36% premium over the average trading price of Brigham stock for the last 30 days.

"A bigger enterprise with a larger balance sheet will be better positioned to take advantage of our large and growing inventory of Williston Basin drilling locations and the associated assets. We are excited to see this transaction completed and look forward to having our assets and employees integrate with the Statoil organization and the substantial asset position that they are growing in their U. S. onshore business," says Bud Brigham, Brigham Exploration's Chairman, President and CEO.

"Brigham has proven itself as a premier operator with a highly attractive position in the Williston Basin. We are a strong strategic fit, as both companies put a premium on technological innovation and advancement. We look forward to creating value and developing this position further together with our new colleagues," says CEO Helge Lund of Statoil.

Tight oil reservoirs are being developed with similar methods as shale gas and liquids with long lateral wells that are hydraulically fractured, and have similar production profiles. Commercial tight oil extraction is a relatively new activity and has increased significantly the last couple of years. The oil produced from the Bakken and Three Forks formations is a light crude quality. Oil production from Brigham's assets in Bakken has low CO2 emissions.

Brigham has demonstrated strong operational capabilities by adapting new technology in horizontal drilling and hydraulic fracture stimulations to develop the tight oil resources in the Williston Basin. Brigham has drilled 88 consecutive producing North Dakota wells, with an average early 24 hour peak production rate of approximately 2,800 boe per day. The company currently operates 12 rigs in the area and aims to drill approximately 140 wells per year.

"We are impressed by the performance and technological prowess demonstrated by the employees of Brigham and look forward to further responsible development of these world class assets. We will build on Brigham's good neighbor program and continue to engage with local authorities and communities in the Williston Basin area," says Bill Maloney, Executive Vice President for Statoil in North America.

Statoil will continue to build upon Brigham's operational capability, and will maintain the Austin location. Retention plans for employees are in place. Statoil will emphasize safety, efficiency and business continuity during the integration period.

Statoil is committed to leveraging its technological competence, project execution skills and financial capability to secure continued high operational performance and value creation. The Brigham transaction also provides Statoil with approximately 430 miles (690 kilometers) of oil, natural gas and water transportation systems centrally located in the Williston Basin. This will not only secure offtake, but it will also significantly limit the environmental footprint and allow Statoil to continue to implement industry leading HSE standards.

The cash tender offer is expected to commence within 10 business days and shareholders will have 20 business days following the day of commencement to tender their shares. The transaction is subject to the terms and conditions set forth in the merger agreement, including that at least a majority of the outstanding Brigham shares are tendered, that the waiting period under the U.S. antitrust laws has expired or been terminated, and other customary conditions. If the tender offer is completed, un-tendered shares will be converted into the right to receive the same USD 36.5 per share paid in the tender offer. Closing of the transaction is expected by the end of Q1 2012.

Tudor, Pickering, Holt & Co. Securities, Inc. and Goldman, Sachs & Co. are acting as financial advisors to Statoil and Vinson & Elkins LLP is acting as legal advisor to Statoil on this transaction.

About Brigham Exploration Company

Brigham Exploration Company is an independent exploration, development and production company that utilizes advanced exploration, drilling and completion technologies to systematically explore for, develop and produce domestic onshore oil and natural gas reserves. For more information about Brigham Exploration, please visit our website at www.bexp3d.com

About Statoil

Statoil is an international energy company, headquartered in Norway, with operations in 34 countries. Building on more than 35 years of experience from oil and gas production on the Norwegian continental shelf, Statoil is committed to accommodating the world's energy needs in a responsible manner, applying technology and creating innovative business solutions. Statoil has 20,000 employees worldwide, and is listed on the New York and Oslo stock exchanges. For further information, please visit www.statoil.com.

Press conference

There will be a press conference with CEO Helge Lund Monday 17 October at 11.00 CET at the Statoil offices at Vækerø in Oslo. The press conference will also be webcasted at www.statoil.com.

Investor and analyst conference

There will be a conference call with CFO Torgrim Reitan and EVP for Global Strategy and Business Development, John Knight, on Monday 17 October at 14.00 CET.

Details on how to dial into analyst conference can be found on www.Statoil.com two hours prior to conference.


Further information
Investor relations Norway:
Hilde Merete Nafstad, senior vice president, investor relations, mobile:
+47 957 83 911
Investor relations US:
Morten Sven Johannessen, vice president, investor relations USA, mobile:
+1 203 570 2524
Press Norway
Jannik Lindbæk jr., vice president, media relations, mobile:
+47 977 55 622
Bård Glad Pedersen, press spokesperson, media relations, mobile:
+47 918 01 791
Press US
Ola Morten Aanestad, vice president, North America communication, mobile:
+1 713 498 0585
Additional information

The tender offer described in this communication (the "Offer") has not yet commenced, and this communication is neither an offer to purchase nor a solicitation of an offer to sell any shares of the common stock of Brigham Exploration Company or any other securities. On the commencement date of the Offer, a tender offer statement on Schedule TO, including an offer to purchase, a letter of transmittal and related documents, will be filed with the United States Securities and Exchange Commission (the "SEC"). The offer to purchase shares of Brigham common stock will only be made pursuant to the offer to purchase, the letter of transmittal and related documents filed with such Schedule TO. INVESTORS AND STOCKHOLDERS ARE URGED TO READ BOTH THE TENDER OFFER STATEMENT AND THE SOLICITATION/RECOMMENDATION STATEMENT REGARDING THE OFFER, AS THEY
MAY BE AMENDED FROM TIME TO TIME, WHEN THEY BECOME AVAILABLE BECAUSE THEY WILL CONTAIN IMPORTANT INFORMATION. The merger agreement and the tender offer statement will be filed with the SEC by Statoil and the solicitation/recommendation statement on Schedule 14D-9 will be filed with the SEC by Brigham. Investors and stockholders may obtain a free copy of these statements (when available) and other documents filed with the SEC free of charge at the website maintained by the SEC at
www.sec.gov
.
None of the information included on any Internet website maintained by Statoil, Brigham or any of their affiliates, or any other Internet website linked to any such website, is incorporated by reference in or otherwise made a part of this press release.
Forward-Looking Statements

This communication contains certain forward-looking statements that involve risks and uncertainties. In some cases, we use words such as "believe", "intend", "expect", "anticipate", "plan", "target" and similar expressions to identify forward-looking statements.
All statements other than statements of historical fact, including, among others, statements such as those regarding: the expected completion of the proposed acquisition; plans for future development and operation of projects; reserve information; expected exploration and development activities and plans; expected start-up dates for projects and expected production and capacity of projects; the expected impact of USD/NOK exchange rate fluctuations on our financial position; oil, gas and alternative fuel price levels; oil, gas and alternative fuel supply and demand; the completion of acquisitions; and the obtaining of regulatory and contractual approvals are forward-looking statements.
These forward-looking statements reflect current views with respect to future events and are, by their nature, subject to significant risks and uncertainties because they relate to events and depend on circumstances that will occur in the future. There are a number of factors that could cause actual results and developments to differ materially from those expressed or implied by these forward-looking statements, including the ability of Statoil to complete the transactions contemplated by the merger agreement, including the parties' abilities to satisfy the conditions to the consummation of the proposed acquisition; the possibility of any termination of the merger agreement; the timing of the Offer and the subsequent merger; uncertainties as to how many of Brigham's stockholders will tender their shares of common stock in the Offer; the possibility that various other conditions to the consummation of the Offer or the subsequent merger may not be satisfied or waived, including that a governmental entity may prohibit, delay or refuse to grant approval for the consummation of the proposed acquisition. Other factors include levels of industry product supply, demand and pricing; price and availability of alternative fuels; currency exchange rates; political and economic policies of Norway and other oil-producing countries; general economic conditions; political stability and economic growth in relevant areas of the world; global political events and actions, including war, terrorism and sanctions; the timing of bringing new fields on stream; material differences from reserves estimates; inability to find and develop reserves; adverse changes in tax regimes; development and use of new technology; geological or technical difficulties; the actions of competitors; the actions of field partners; the actions of governments; relevant governmental approvals; industrial actions by workers; prolonged adverse weather conditions; natural disasters and other changes to business conditions. Additional information, including information on factors which may affect Statoil's business, is contained in Statoil's 2010 Annual Report on Form 20-F filed with the US Securities and Exchange Commission, which can be found on Statoil's web site at
www.statoil.com
.
Although we believe that the expectations reflected in the forward-looking statements are reasonable, we cannot assure you that our future results, level of activity, performance or achievements will meet these expectations. Moreover, neither we nor any other person assumes responsibility for the accuracy and completeness of the forward-looking statements. Unless we are required by law to update these statements, we will not necessarily update any of these statements after the date of this communication, either to make them conform to actual results or changes in our expectations.
The SEC permits oil and gas companies to disclose only proved, probable or possible reserves that a company has demonstrated by actual production or conclusive formation tests to be economically and legally producible under existing economic and operating conditions. Statoil's use of the term "risked resource base" in this release includes reserves other than proved, probable or possible reserves, which the SEC's guidelines strictly prohibit us from including in filings with the SEC. This term includes estimates which are not yet classified as proved, probable or possible reserves. These estimates are by their nature more speculative than estimates of proved, probable and possible reserves and accordingly are subject to substantially greater risk of being actually realized. Risked resource base includes internal estimates of hydrocarbon quantities that may be potentially discovered through exploratory drilling or recovered with additional drilling or recovery techniques and have not been reviewed by independent engineers and do not constitute reserves within the meaning of the Society of Petroleum Engineer's Petroleum Resource Management System. Actual quantities that may be ultimately recovered from these properties will differ substantially. Factors affecting ultimate recovery include the scope of the ongoing drilling program, which will be directly affected by the availability of capital, drilling and production costs, availability of drilling services and equipment, drilling results, lease expirations, transportation constraints, regulatory approvals and other factors; and actual drilling results, including geological and mechanical factors affecting recovery rates. Estimates of the risked resource base may change significantly as development provides additional data.