Statoil becomes operator in the Marcellus through acquisition of liquid rich acreage
December 19, 2012, 11:00 CET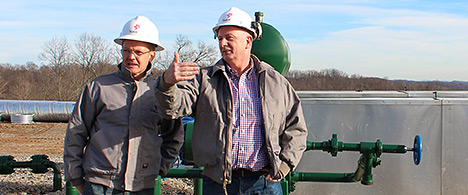 Torstein Hole (left), senior vice president for US onshore in Statoil and Andy Winkle, Statoil's vice president for the Marcellus asset, at a well pad in the Marcellus area.
"The US unconventional plays hold a substantial resource base and represent an increasingly important part of future energy supplies. Statoil is further strengthening its US onshore portfolio by acquiring additional acreage in the valuable liquid rich parts of the Marcellus shale in Ohio and West Virginia," says Statoil US onshore senior vice president Torstein Hole.
Statoil entered the Marcellus in 2008 through a partnership with Chesapeake Energy Corporation. Since then the company has pursued a targeted and stepwise growth strategy to expand its US onshore holdings and develop operational and organizational capacity.
In 2010 Statoil acquired acreage in the liquid-rich Eagle Ford Shale in Texas and in 2011 the company took over ownership and operatorship for leases in the Bakken and Three Forks formations in North Dakota and Montana through the acquisition of Brigham Exploration.
In 2013, Statoil will become operator for 50% of the Eagle Ford acreage, in line with the agreement with Talisman Energy Inc. from 2010.
"Statoil was an early entrant into shale and has over time built a diversified portfolio in some of the most attractive oil, gas and liquid-rich areas. We are already operator in Bakken, we are on schedule to become operator in Eagle Ford next year and with this transaction Statoil will become operator also in Marcellus. We will then be operator in all of our significant US shale plays," says Hole.
A majority of the net acres in this transaction are located in the liquid-rich part of the Marcellus. The market for these products is substantially better paying than the current market for dry gas in the US.
At this early stage of development the risked resource base is estimated at 300-500 million barrels of oil equivalent equity. Current equity production is approximately 5,000 barrels of oil equivalents per day.
To help ensuring a safe and efficient transfer of operatorship, the sellers will over a period of time provide transition operating services.
The transaction was closed 18 December 2012, with 1 September 2012 as the effective date.