DECC approves Mariner field development plan
February 15, 2013, 11:51 CET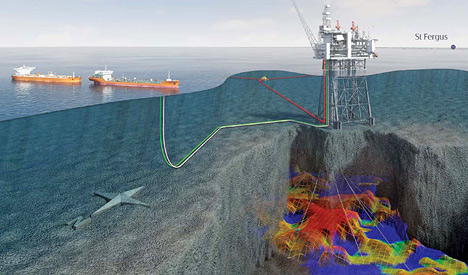 Illustration of the Mariner field.
The project entails investments of more than USD 7 billion and is the largest new offshore development in the UK in more than a decade.
Statoil expects to start production from Mariner in 2017, and the field is expected to produce for 30 years. The average production is estimated at around 55,000 barrels of oil per day over the plateau period from 2017 to 2020.
"Statoil and its partners appreciate the cooperation from the UK government and the approval of the development plan for this landmark project. The North Sea is a core area for Statoil and we look forward to taking a leading role in further developing also the UK part of this basin," says Helge Lund, president and CEO of Statoil.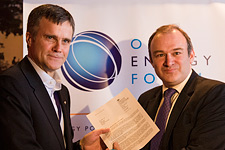 Chief executive Helge Lund (left) and UK Energy and Climate Change Secretary Edward Davey at the press conference in Oslo on Friday 15 February. (Photo: Ole Jørgen Bratland)
The Mariner project was positively impacted by the UK government's expansion of the Ring Fence Expenditure Supplement and will provide significant tax income for the UK.
Statoil will establish an operations center for Mariner in Aberdeen, and the project will lead to substantial job creation in the region with more than 700 long-term, full-time positions.
Statoil has extensive heavy oil experience from offshore fields in Norway and Brazil, which will enable it to develop the Mariner field.
The field will be developed with a production, drilling and quarters (PDQ) platform based on a steel jacket, with 50 active well slots, and a floating storage unit (FSU) of 850,000 barrels capacity.
In addition a jack-up rig will be used for the first four to five years.
Since Statoil entered in 2007, the company has developed a leading heavy oil position in the area, as an operator with 65.11% equity in Mariner and 81.6% equity in the Bressay field.
Statoil expects to make a final investment decision for Bressay in 2013. Through applying technology and competence, the value of Statoil's position in the area has increased substantially.
Statoil is a key energy security partner for the UK and pursues a broad range of activities relating to energy production and sales in Britain.
Statoil have a sales office for crude oil in London, and are a substantial supplier of gas to the British market. In addition to being operator for the Mariner and Bressay fields, Statoil is partners in the producing fields Schiehallion, Jupiter and Alba as well as in several exploration licences offshore UK, including the oil and gas discovery Rosebank.
Statoil was awarded seven licences in the 27th Licence Round both in the UK North Sea and the UK Shetland basin. Together with Statkraft, Statoil has developed the Sheringham Shoal offshore wind farm and recently acquired the Dudgeon offshore wind farm project.
Statoil is also partners in the Dogger Bank offshore wind project. Statoil's business area for Global Strategy and Business Development is based in London and Statoil has around 400 employees in the UK.
The Mariner Field is located on the East Shetland Platform of the UK North Sea approximately 150 km east of the Shetland Isles. Statoil acquired 44.44% and operatorship for Mariner from Chevron in 2007.
Statoil acquired a further 20.6667% of Mariner from Nautical Petroleum in 2010. JX Nippon Exploration and Production (U.K.) Ltd (28.89%) and Alba Resources Limited (6%) are partners in Mariner. Alba Resources Limited is a wholly owned subsidiary of Cairn Energy PLC.