Accepts Oseberg C fine
November 19, 2013, 09:38 CET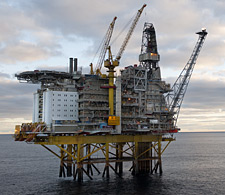 The Oseberg C platform in The North Sea.
(Photo: Øyvind Hagen)
Wash water is defined as hazardous waste, and this was not handled in accordance with the regulations by the platform.
The wash water was sent by mistake through the oil export pipeline to the Sture terminal in Hordaland, which did not have permission to receive or handle such waste.
After the incident a number of measures to prevent recurrence have been implemented, and new procedures for reporting the content of fluid sent to the terminal through the oil export system have been introduced.
"This was a highly regrettable incident that should not have occurred," says Terje Gunnar Hauge, head of Oseberg operations.
"We fortunately have no indications that this has resulted in local pollution at Sture."