2013 fourth quarter results
February 7, 2014, 07:00 CET
Statoil's (OSE:STL, NYSE:STO) fourth quarter 2013 net operating income was NOK 43.9 billion.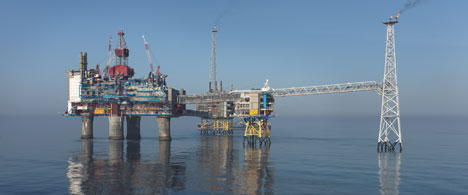 The Sleipner field
In 2013, net operating income was NOK 155.5 billion. At today's Capital Markets Update, Statoil presents its plan for reduced capital expenditure by more than USD 5 billion from 2014-16 compared to previous plans. This will enable positive organic free cash flow after dividend from 2016. Statoil expects to deliver around 3 % average rebased organic production growth from 2013-16.

Adjusted earnings for the fourth quarter of 2013 were NOK 42.3 billion, compared to NOK 48.3 billion in the fourth quarter of 2012. The international result in the quarter was impacted by a higher gas share, lower realised prices and high depreciation cost in the US onshore business.

For the full year, adjusted earnings were NOK 163.1 billion in 2013 compared to NOK 193.2 billion in 2012. The result is impacted by divestments and redetermination. Net income in the fourth quarter of 2013 was NOK 14.8 billion, which is an increase of 14% compared to NOK 13.0 billion in the same period in 2012.

Statoil delivered equity production of 1,940 mboe per day in 2013, compared to 2,004 mboe per day in 2012. The decrease is mainly a result of divestments and redetermination. Statoil increased its annual equity production outside Norway to a record high 723 mboe in 2013, driven by start-up and ramp-up of new fields.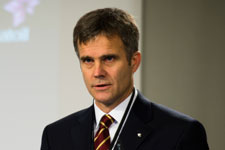 Helge Lund, president and CEO
"Our operational performance was good, with safety improvements, production as expected and strong project execution. We delivered leading exploration results and strengthened our resource base," says Helge Lund, Statoil's president and CEO.

Statoil delivered the best oil and gas exploration results in the industry in 2013, measured by conventional discovered volume, and made the world's largest conventional oil discovery by volume last year through the Bay du Nord discovery offshore Canada. The company added 1.25 billion barrels of oil equivalent from exploration in 2013. During 2013 Statoil completed 59 exploration wells, 26 of which were discoveries.

Through effective resource management and the maturing of new projects, Statoil achieved a reserve replacement ratio (RRR) of 128% in 2013. Organic RRR was 147%, which is a record since 1999. Statoil maintained strong project execution through 2013 with projects delivered on cost and ahead of schedule, with strong safety performance.

Statoil announced divestments in 2013 with net proceeds worth a total of more than USD 4 billion, including the divestments of assets on the UK and Norwegian continental shelves to OMV and the agreement to reduce ownership in the Shah Deniz project in Azerbaijan and the South Caucasus Pipeline.

The serious incident frequency (SIF) was 0.7 in the fourth quarter of 2013 compared to 1.0 in the fourth quarter in 2012. For the full year, the SIF improved from 1.0 in 2012 to 0.8 in 2013.

Capital markets update

At its capital markets update in London on 7 February, Statoil will announce its updated outlook for 2014-16.

"The industry is facing demanding challenges and we address these from a position of strength. We have a competitive resource base, a robust financial position and a highly competent organisation recognised for its technological and operational experience," says Lund.

"Our strategy for value creation and growth remains firm, but we are making some important changes. Stricter project prioritisation and a comprehensive efficiency program will improve cash flow and profitability. Our strong balance sheet enables prioritisation of capital distribution to shareholders," says Lund.

Statoil will invest around USD 20 billion on average per year 2014-16. This is a reduction of 8% from previous estimates, mainly due to strict prioritisation and increased capital efficiency.

In the 2014-16 period, Statoil expects to maintain return on average capital employed (ROACE) around the 2013 level based on an oil price of USD 100 per barrel (real 2013). Production growth is estimated around 2 per cent 2013-14 and around 3 per cent organic CAGR from 2013-16 from a rebased equity production of 1,850 mboe per day in 2013.

Statoil expects to drill around 50 wells in 2014 and around 20 high impact wells from 2014-16. The exploration spend in 2014 will be around USD 3.5 billion.

Committed to capital distribution

The Statoil Board of Directors proposes an increased dividend of NOK 7.00 in 2013 from NOK 6.75 in 2012. The Board will also propose to the Annual General Meeting (AGM) to introduce quarterly dividend payments. Conditional on approval from the AGM, this means that Statoil in 2014 will distribute two quarterly dividends in addition to the annual dividend for 2013.

Statoil also announces that it intends to use share buy-backs more actively going forward, based on transaction proceeds, cash flow developments and balance sheet strength.

Balancing return and growth

Safe and efficient operations, strict prioritisation, and predictable and competitive development of a strong resource base will enable profitable growth through 2020 and beyond.

Statoil continues to optimise projects in order to increase returns, increasing the average IRR for non-sanctioned projects pre-2020 with eight percentage points to 24%, compared to the current portfolio of sanctioned projects.

Since 2010, Statoil has divested assets totalling a value of USD 18 billion, realising gains of around USD 10 billion.

Reducing cost

Statoil has a competitive unit of production cost, in the first quartile compared to peers. The company has maintained stable underlying operating expenses on the Norwegian continental shelf (NCS) for twelve consecutive quarters.

Through a comprehensive improvement programme, Statoil expects to realise annual savings of USD 1.3 billion per year from 2016.

The quarter in brief

Statoil's net operating income was NOK 43.9 billion compared to NOK 45.8 billion in the fourth quarter of 2012.

Adjusted earnings were NOK 42.3 billion, compared to NOK 48.3 billion in the fourth quarter of 2012.

Adjusted earnings after tax were NOK 11.0 billion, compared to NOK 15.1 billion in the fourth quarter of 2012.

Net income was NOK 14.8 billion compared to NOK 13.0 billion in the fourth quarter of 2012.


FURTHER INFORMATION FROM:
Investor relations
Hilde Merete Nafstad, senior vice president investor relations
+47 957 83 911 (mobile)
Morten Sven Johannessen, vice president investor relations, USA
+1 203 570 2524 (mobile)
Press
Jannik Lindbæk jr, vice president for media relations
+47 977 55 622 (mobile)