Production resumes on Njord A
July 21, 2014, 14:22 CEST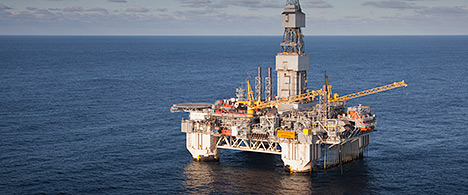 The Njord A platform in the Norwegian Seat. (Photo: Øyvind Nesvåg)
Extensive analyses and inspections in 2013 revealed a need to reinforce the Njord A platform structure. To be on the safe side, Statoil opted to keep production shut down until the reinforcements were in place.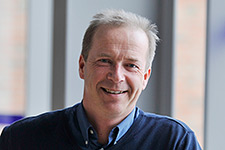 Arve Rennemo, head of Njord operations.
(Photo: Harald Pettersen)
"We have extended Njord's lifetime by improving recovery on the field, and by finding more oil and gas in the area. The Njord A platform has been with us the entire time, and we want to make sure that the structure can withstand the loads it will be exposed to," says head of Njord operations Arve Rennemo.
The work that has been done through the winter and spring has strengthened the structure, so the platform can resume production. The work of reinforcing the structure has mainly consisted of bracing the primary beams and struts, and increasing the length of the secondary beams under the platform.
The long-range plan is to further bolster the platform to prepare it for future drilling operations and an extended lifetime on the Njord field.
"Njord A will produce oil and gas until the summer of 2016, after which it will be taken to shore for additional upgrades which will allow us to use the drilling system on board, and prepare it for many more good years of service on the Norwegian shelf," says Rennemo.
Statoil also has studies in progress to assess how the Njord area and the Haltenbanken area in the Norwegian Sea can be further developed. The Njord A platform has been in production since 1997.
Facts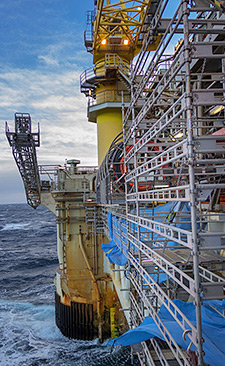 Scaffolding used in the reinforcement process. (Photo: Ole-Andreas Nylund)
Njord A - the Njord field in the Norwegian Sea was developed with a floating steel platform, Njord A, with an integrated deck with a drilling and processing facility and living quarters. Njord A started production in September 1997.


The platform was designed for an original lifetime of 16 years – to 2013. The Petroleum Safety Authority subsequently approved the technical design lifetime to 2022.


Njord was a marginal field development with strong focus on low costs and rapid execution.


The area has a substantial resource potential which could provide a basis for production beyond 2013.


Njord Future – suring the structural reinforcement project, it became clear that, even with the reinforcements implemented offshore over the past year, the Njord A platform will not be robust enough to resume drilling activity in the summer of 2014. Nor will the platform be able to produce until 2022, which is the existing technical lifetime for the installation.


The Njord Future project has therefore been initiated to ensure a long-term solution for optimal resource utilisation in the Njord area.


There are considerable remaining resources in the area, and plans are now being laid to recover these resources, either using a modified Njord A platform or through construction of a new platform.


It is natural in this context to investigate possible cooperation solutions with other recent discoveries made in the area.