Firefly offshore wind farm
Shortcut to this page: equinor.com/fireflywind
Firefly wind farm is planned for an area of 2 x 75 km2 approximately 70 km off the coast of the city of Ulsan in South Korea. The floating offshore wind project has a total potential of around 800 MW.
Equinor plans to reach an installed net renewables capacity of 12-16 gigawatts by 2030. Two-thirds of this within offshore wind. We are stepping up to become a global offshore wind major, and we see strong potential for offshore wind in South Korea, a country we consider to be an important market for floating offshore wind going forward. South Korea has large potential and offers attractive opportunities within offshore wind.
울산 반딧불 부유식 해상풍력발전단지 소개
반딧불 풍력발전단지는 울산 연안에서 약 70km 떨어진 곳에 위치해 있으며, 각각 75km2규모의 두 구역으로 구성되어 800MW 규모의 발전용량을 갖출 예정입니다.
에퀴노르는 2030년까지 재생에너지 설비용량을 전 세계에 걸쳐12~16GW규모로 확대할 예정이며, 이 중 2/3를 해상풍력에서 확보할 계획입니다. 글로벌 해상풍력강자로 거듭나려는 야심 찬 목표를 갖고 있는 에퀴노르는 한국의 풍력발전 산업의 가능성을 확인했으며 한국이 전 세계 부유식 해상풍력발전 산업발전에 매우 중요한 역할을 할 것으로 기대합니다.
In December 2021 Equinor is planning to start offshore environmental surveys to collect data for the Environmental Impact Assessment.
The surveys will be conducted initially over a 12-month period and will include marine mammals, seabirds, seawater and sediment quality, marine ecology, fish, marine physics and underwater noise. Sekwang Engineering Co. Ltd, has been appointed by Equinor to manage the surveys which will be undertaken by specialist sub-contractors.
The surveys will be conducted in the offshore wind turbine array area as well as the proposed cable route to shore. Equinor will issue a Notice to Mariners on a regular basis which will include details of the upcoming surveys and areas where the surveys will take place, as well as details about the survey's vessel and contact information.

2021년 12월부터 에퀴노르는 본 사업의 환경영향평가를 진행하기 위해 해양조사를 실시합니다.
해양조사는 약 12개월 간 해양 포유류 및 조류, 해양수질 및 퇴적물, 해양 생태계, 어류, 해양물리, 수중소음 조사를 통해 해역의 특성을 파악합니다. 에퀴노르는 (주)세광종합기술단에 환경영향평가 대행을 의뢰하였으며 환경 및 해양 전문가가 안전하게 조사를 수행할 예정입니다.
해양조사는 해상풍력발전단지 및 송전선로에 걸쳐 수행됩니다. 당사는 해양조사기간 동안 조사 일정, 위치, 조사선 정보 및 관계자 연락처 정보를 정기적으로 제공할 예정입니다.

Key facts
Floater steel semi-sub with 3 mooring lines
O&M base onshore (~70 km)

Business case
Two Lidars deployed June 2020
Electric Business Licence has been granted
MoU signed with EWP on collaboration on offshore wind in South Korea


Targeted timeline
Lidar measurements 2020-2021
Consent and grid agreements 2022/23
Final Investment Decision 2023/24
Fabrication 2024/25/26
Installation 2025/26/27
Commercial Operation Date 2027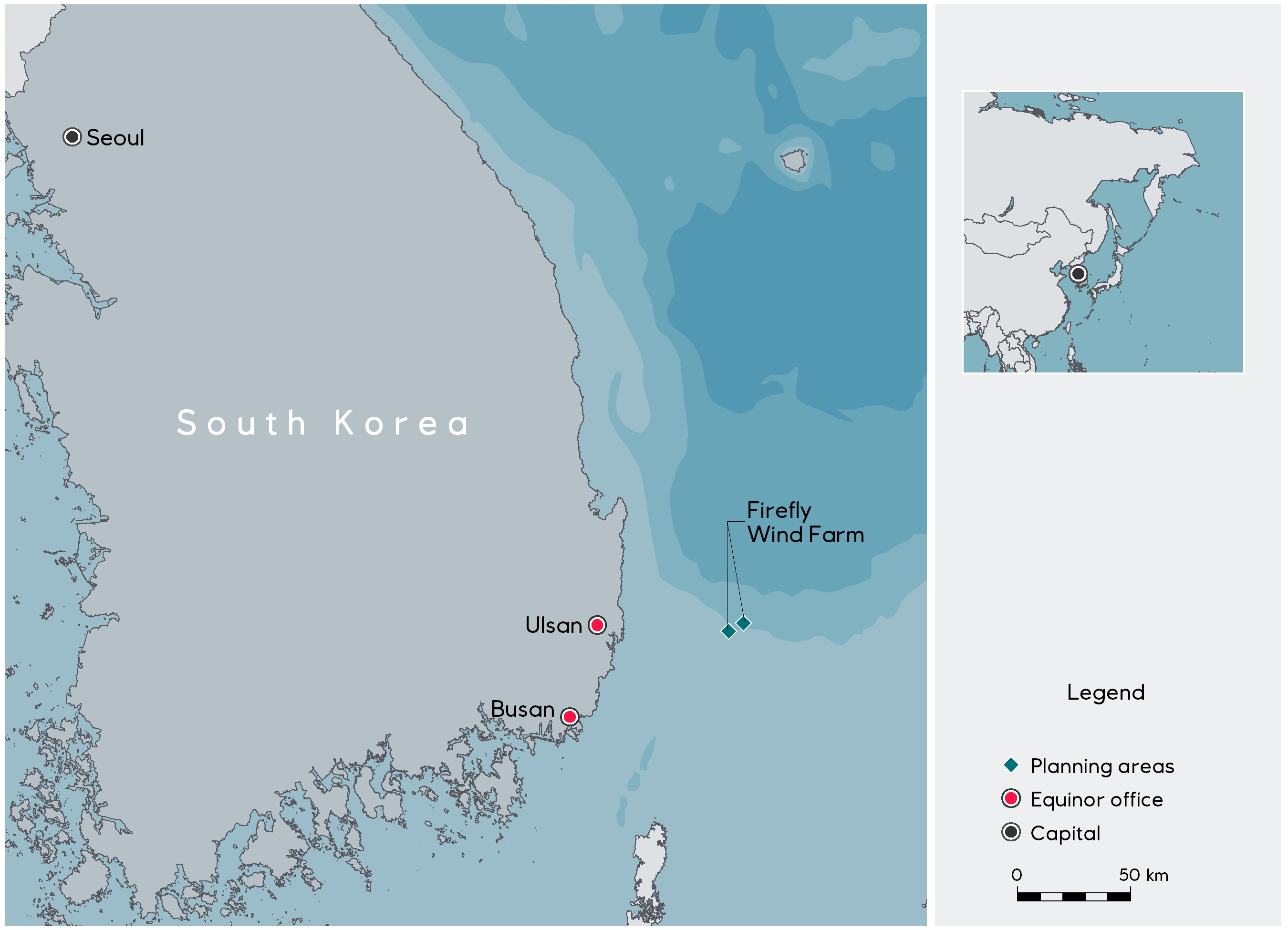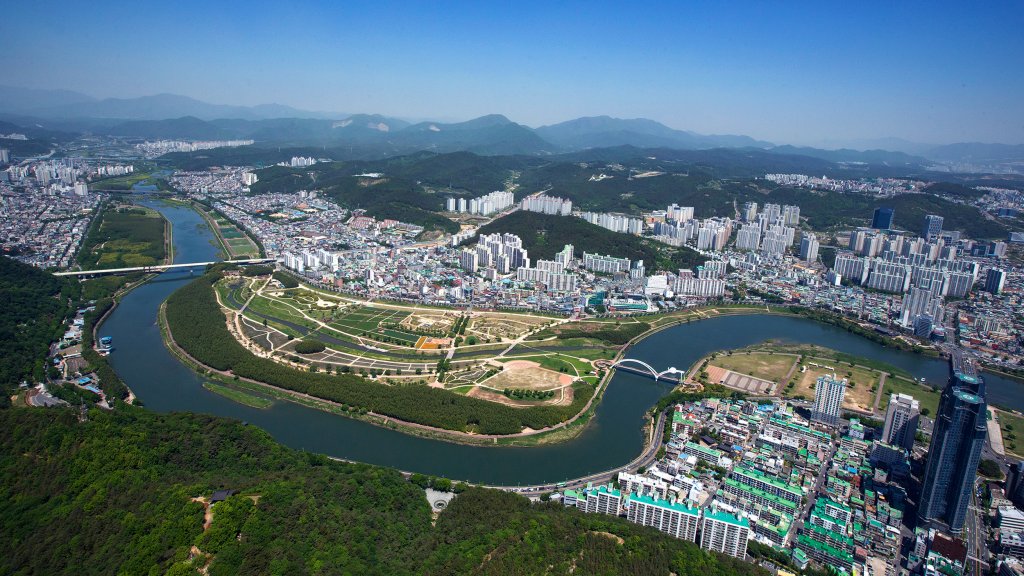 South Korea is transforming its energy mix from nuclear power and coal to renewable energy. The share of renewable energy in its power production is estimated to increase to 20% by 2030; aiming to add 49GW to its renewable production capacity by 2030, of which solar power accounts for 36,5GW and wind power 17,7GW.
Equinor opened our country office in South Korea in 2014, and since then we have carried out the construction of the topsides for the Mariner and Aasta Hansteen platforms, the Aasta Hansteen hull, two Category-J rigs, and two platforms for Johan Sverdrup in South Korea.

As a broad energy company developing oil, gas, wind and solar, we see a broad potential for developing offshore wind off the Korean coastline. In addition to developing the Firefly Wind Farm, we are aiming to develop a 200 MW floating offshore wind farm off the coast of Ulsan together with our partners Korean National Oil Company and East West Power.

About Equinor
Equinor is a broad energy company, developing oil, gas, wind and solar. Find out more about us below.

한국은 주 에너지원을 원자력과 석탄 발전에서 재생에너지로 바꿔가고 있습니다. 신재생에너지는 2030년까지 전력생산 비중의 20%를 차지할 것으로 예상되며, 이는49GW의 신재생에너지 발전용량을 포함하는 것입니다. 태양광과 풍력을 이용한 전력 발전용량은 각각 36.5GW와 17.6GW에 이를 것으로 예상됩니다.

에퀴노르는 2014년부터 한국 현지 업체들과 협력하여 조선소의 대형 플랫폼과 선박을 다음과 같이 건조하였습니다
대우조선해양 (DSME): 마리너 프로젝트 상부구조물 시공
삼성 중공업 (SHI): 오세버그(Oseberg)와 굴팍스(Gullfaks) 유전에 잭업리그 2기, 발레몬(Valemon) 가스전 및 요한 스베드럽(Johan Sverdrup) 해상유전의 상부구조물, 하이드런(Heidrun)의 부유식 저장소 유닛 납품
현대중공업 (HHI): 노르웨이 아스타 한스틴(Aasta Hansteen) 해상가스생산설비 상부구조물 및 선체 공사
노르웨이를 대표하는 국영 종합에너지 기업인 에퀴노르는 한국이 해상풍력 산업에서 높은 성장 가능성을 갖고 있다고 보고 있습니다
에퀴노르는 울산 반딧불 부유식 해상풍력발전단지 이외에 한국석유공사 및 한국동서발전과 함께 200MW급의 동해1 부유식 해상풍력발전단지 개발도 추진중입니다.
에퀴노르에 대한 다양한 정보는 위에 있는 영어 링크에서 추가로 확인할 수 있습니다.

How to contact us / 관련 연락처
Equinor is keen to receive feedback from local stakeholders and those working in our supply chain.

Email: UlsanFOW@equinor.com

Office address:
Equinor SK - Busan
16FL, Centum Science Park, 79 Centum Jungang-ro, Haeundae-gu, Busan,
(Postcode: 48058)
South Korea
Tel: +82 (0)10 8323 5480
Equinor SK - Ulsan
#418 Ulsan Biz Park, 406-21, Jongga-ro, Jung-gu, Ulsan, (Postcode: 44429)
South Korea
Tel: +82 (0)52 242 1907