Trading and producing energy

Equinor owns two companies in Denmark: Equinor Refining Denmark, which is Denmark's largest oil refinery, and Danske Commodities, a leading energy trading house specialising in electricity and gas. 
This page is available in English only

How to find us in Denmark
Kalundborg
Equinor Refining Denmark A/S
Melbyvej 10 
4400 Kalundborg
Tel: +45 59 57 45 00
Aarhus
Danske Commodities
Værkmestergade 3
8000 Aarhus C
Tel: +45 88 33 81 81
Danske Commodities in numbers
We are 320 highly skilled specialists; traders, analysts and developers.
Every day we conduct more than 5000 trades, employing cutting-edge automation technology.
In 2019 we traded 1119 TWh of energy corresponding to 29% of the power consumption in Europe
In 2019, Equinor acquired Danske Commodities, a leading energy trading house. Danske Commodities trades power and gas across borders and uses its market knowledge and trading setup to support customers including renewable producers, conventional asset producers and energy suppliers.
The EUR 400 million acquisition of Danske Commodities (DC) supports our development as a broad energy company and strengthens our ability to capture value from our production of renewable electricity.  

DC's market presence and expertise in energy trading also complements our position as the second-largest supplier of natural gas to Europe and as one of the world's largest net-sellers of crude oil.
of crude oil, condensate and feedstock are processed every year
largest company in Denmark in terms of revenue
Source:Berlingske, 2020 "Her er Danmarks 1000 største virksomheder i 2020"
employees in Equinor Refining Denmark A/S 
The Kalundborg refinery is the largest oil refinery in Denmark and is owned by Equinor Refining Denmark A/S. The refinery processes about 5.5 million tonnes of crude oil, condensate and feedstock per year and has a tank capacity of 1.2 million m3.

The oldest parts of the refinery started operation in 1961, and the plant has gradually been developed since then. Equinor ASA purchased the refinery from Dansk Esso A/S in 1986. In 1995 a condensate distillation plant wad added, enabling the refinery to receive large volumes of condensates (light crude oil), enabling the production of high value products.

Equinor Refining Denmark A/S produces naphtha, petrol, diesel, fuel oil and heavy fuel, and the primary markets besides the Danish market are Scandinavia and northwest Europe.
The refinery mainly processes various crude oils and condensates from the Norwegian continental shelf, but also receives crudes from West Africa and the US.

All crude oil and condensates are transported to Kalundborg by tanker, and most of the final products are also transported by sea. There are about 600 shipping movements per year, and Equinor Refining Denmark A/S therefore has harbour facilities in connection with the plant.
Equinor Refining Denmark A/S operates two fuel truck terminals for fuel and LPG (Liquefied Petroleum Gas). Costumers are typically larger oil and gas retail companies.

Our product terminal in Hedehusene has a maximum throughput capacity of 1.8 million m3 per year. The terminal is supplied 100% via two pipelines, which are connected to the refinery. The pipelines are owned by Danish Central Oil Stockholdings (FDO). 
Our product terminal in Kalundborg is located next to the refinery. The maximum throughput capacity of the terminal in Kalundborg is 0.8 million m3. The terminal is supplied directly from the refinery's product tanks.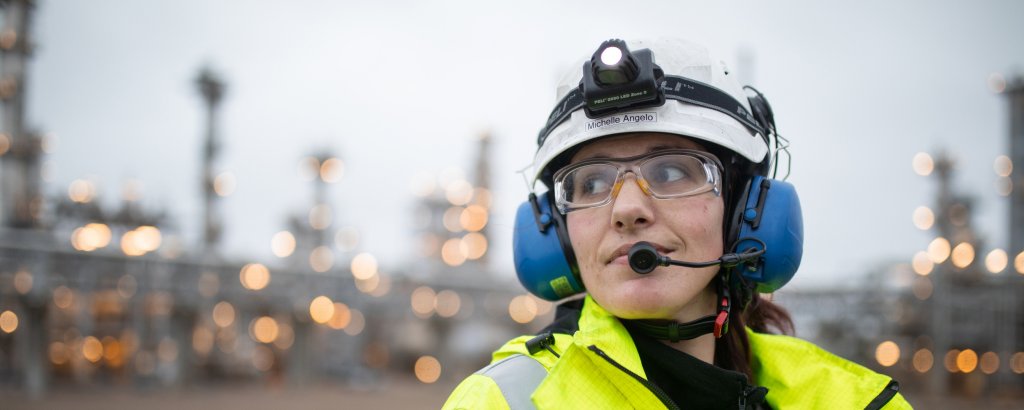 Equinor Refining Denmark A/S is one of several local enterprises included in the Industrial Symbiosis initiative in Kalundborg.
The Kalundborg Symbiosis is an industrial ecosystem, where the residual product of one enterprise is used as a resource by another enterprise, in a closed cycle. An industrial symbiosis is a local collaboration where public and private enterprises buy and sell residual products, resulting in mutual economic and environmental benefits.
The following industries are part of the initiative: 
Equinor Refining Denmark
Ørsted
Novo Nordisk
Novozymes
Gyproc Saint Gobain
Kalundborg Forsyning (Kalundborg Utility)
Argo
Avista Green
Unibio
Biopro
Kalundborg Kommune (Kalundborg Municipality)
Kalundborg Bioenergy
Follow the link: www.symbiosis.dk for futher details.
Sustainability reports and green accounts
Equinor Refining Denmark AS publishes its sustainability report (formerly green accounts) annually, describing our efforts to manage and limit the impacts from our operations on the environment and work environment.
The sustainability reports include:
The management account, describing production and environmental work.
Health, safety and environmental goals
Environmental data for the past five years of production.
From 2015 the annual green accounts were changed to an environmental report following a new statutory order for PRTR (Pollutant Release and Transfer Register). From 2018 onwards the environmental report therefore became a sustainability report. All previous reports are available for download here.