We are now celebrating 50 years of oil and gas activities in Norway. We have much to be proud of — but we are well aware of the challenges ahead.
Equinor is on track to maintain profitable production from the NCS at current level towards 2030. After 2030 the NCS will enter a more mature phase. It is therefore necessary to introduce new measures to tackle the future challenges of declining production from the big fields, ageing installations and the need for reduced CO2 emissions.
In recent years we have set ourselves tough targets on the NCS, which have paid off. We have improved operational efficiency, increased production, reduced CO2 emissions and matured a highly profitable project portfolio. This is the result of good dialogue with authorities and good collaboration with our suppliers and employees. The NCS still holds a lot of potential, but securing value creation and thousands of jobs for the decades to come is no easy task. The changes needed will be bigger than ever before and are necessary as we continue to develop as a broad energy company.
0
in Norway (incl. partner volumes), 2017
0
Employees in Norway (2017)
0
Equinor-operated fields and platforms in Norway
Do you want to shape the future of energy?  

Attracting and developing the best engineering talent will be an essential part of delivering on our climate ambitions for Norway. We're currently recruiting for multiple vacancies as part of our continued investment in transforming production on the Norwegian Continental Shelf.
Our main activities are in Norway, with our headquarters in Stavanger and group activities taking place in Oslo and Bergen.
If you are visiting an office or site in Norway please watch this film before you arrive.





The leading operator on the NCS
We currently operate 42 fields on the Norwegian continental shelf and produce around 2.5 million barrels a day, including the volumes from our partners. For more than 40 years, we have accumulated broad expertise, which we will use to further develop the Norwegian continental shelf. We know the geology, the fields and what is required to succeed. This expertise enables us to manage values responsibly, so that we can secure jobs and value creation for years to come.  


Our fields consist of everything from small fast-track projects to giants like Troll, Statfjord and Gullfaks. In our view, the Norwegian continental shelf is one of the most exciting places to explore. The Norwegian continental shelf delivers consistently good results, and we believe there is great potential for finding more oil and gas—in new areas, in already opened areas and, not least, near infrastructure that has already been built.

The oil and gas industry on the Norwegian continental shelf is a hotbed of technological development and innovation. Many technologies that are at the cutting edge internationally today had their breakthroughs on the Norwegian continental shelf. Together with the supplier industry, partners, research institutions and Norwegian authorities, we have created a culture for solving challenges and finding solutions. This is a mentality we will take with us into the future.
To achieve our ambition for long-term activity and value-creation, we will enhance our work in the following prioritised areas on the Norwegian continental shelf: 
Safe, efficient and sustainable operation
Maximising value-creation from existing fields and infrastructure
Executing projects in a way that will ensure profitability and long-term competitive leverage
Identifying and realising new opportunities

The next chapter on the Norwegian continental shelf
When we first found oil in the North Sea, few people realised the values and growth it would bring to Norway. Today, another new chapter in the Norwegian oil adventure is about to be written. 

Our strategy is based on always safe, high value and low carbon. Our ambition is to be industry leader within safety and security.
The NCS is, and will continue to be, the backbone of Equinor for many years.
The international part of our business is an important contributor to Equinor's ambitions. To put this into perspective: In 1991 we had no international production. Now about one third of our production comes from our international operations.
Oil and gas processing and trading help maximise the value of the resources we produce.
Renewable projects represent a substantial focus area. There are two reasons for this: First, we want to build a profitable renewables portfolio. Second, we aim to further reduce the emissions from our existing oil and gas production
We need to start now. After 2022, based on today's outlook, there are currently few big projects remaining. The choices that we, the authorities, and the industry make today will be decisive. It is about stable framework conditions, investments and collaboration to develop new and innovative solutions. We have the expertise, platforms, pipelines, bases and onshore facilities, a competitive industry and a fast-developing technology. This gives us an excellent starting point when we set out new plans in order maintain production and profitability as high as possible, while at the same time developing new renewable value chains on the NCS.
A strong Norwegian supply cluster is vital, both for our position and for the Norwegian continental shelf. We work closely with many of our suppliers to identify optimal solutions for standardisation, industrialisation and streamlining to break the cost curve and ensure future competitiveness. We are firm believers in the industry's ability to achieve continual improvement.
As little as 20% of oil is recovered elsewhere in the world
Our goal for the recovery rate from Johan Sverdrup is a world-leading 70%

We have more than 40 projects in the implementation phase

We intend to maintain production at current levels until 2030

Norwegian oil and gas in a low-carbon society

Man-made climate change is one of the greatest challenges of our age. As a producer of oil and gas, Equinor needs to be part of the solution. Oil and gas will be remain as key components of the energy supply in the future, which imposes a great responsibility on us as producers. Our clear ambition is to be a world leader in terms of carbon efficiency.

Our analyses indicate that the world will need significant amounts of oil and gas even in the two-degree scenario, the global climate target. Oil and gas in volumes equivalent to the volumes produced today will also be necessary in 2040. Production from current fields is falling every year. This means that the world must find and put into production as many as 50–60 million new barrels in 2040. This is the equivalent of five times the current production of Saudi Arabia, or 100 new Johan Sverdrup fields. This is a formidable task in itself, and considering the climate issue, how these volumes are produced is very important. 
Norway has a long tradition of working systematically to reduce emissions, and our current CO2 emissions are approximately half the industry average. We are also working hard to maintain our leading position. In 2008, we set ambitious goals for reducing emissions by 2020—goals that we have already reached.  We have therefore increased our goal by 50 per cent to 1.2 million tonnes by 2020—equivalent to the emissions from 750,000 cars.
We will continue to work on reducing emissions to ensure that Norwegian oil and gas remain important contributors to the world reaching its climate and energy targets. We intend to be part of the solution for the production of energy for the world in a climate-friendly way.

European heat from Norwegian gas

As the second-largest supplier of gas in Europe, Equinor ensures a competitive energy supply for companies and tens of millions of homes. Gas is also an attractive energy source seen from an environmental perspective, as it emits far less CO2 than coal and oil during combustion. Norwegian gas is an important contributor to reducing climate gas emissions from energy production in Europe.
What future for Norway's largest industry?
The petroleum industry is Norway's largest industry when measured in value creation, state income, investments and export value. Total income from the sector is estimated to NOK 224 billion in 2018, representing 17 per cent of the state's combined income. 


Since production started on the Norwegian continental shelf in the early 1970s, the petroleum industry has contributed more than NOK 11,000 billion to Norway's gross national product, measured in current kroner. (Source: Ministry of Petroleum and Energy)

At the same time, only 45 per cent of what is estimated to be the total extractable resources on the Norwegian continental shelf have been extracted.
We also see that a significant drop in production and activity will occur after 2025. If we are to retain a high level of activity after 2025, access to new exploration areas will be crucial to the future of the Norwegian continental shelf. The licensings rounds with announcement of new blocks is therefore very important, as are the impact assessments of new areas outside of Lofoten, Vesterålen and Senja.  
As a major operator, we have created economies of scale within logistics, emergency response, well maintenance, and training. To ensure continued, long-term profitability, we must work smarter and cut costs. The cost level in the industry has become very high in recent years, and managing changed framework conditions is also challenging. This requires stricter priorities, and our concepts may need to change to ensure profitability.
If the industry is given access to new acreage, manages cost and profitability challenges and ensures that it remains at the forefront in terms of climate and the environment, the future of the Norwegian continental shelf is bright. 
Our onshore facilities in Norway

Our products are marketed and sold on the global market, and our production has made Norway one of the world's leading oil and gas exporters. Our onshore facilities in Norway include activities in crude oil reception, gas processing, refining and methanol production. We also have operational responsibility for the world's most extensive subsea pipeline system for the transportation of gas. 
Equinor operates the facilities for bringing gas onshore and processing it, which provides a significant number of jobs:

LNG from the Snøhvit field is produced at Melkøya in Hammerfest.
Gas from the Heidrun field is used as raw material in Europe's largest methanol plant at Tjeldbergodden in Aure municipality.
Oil from the Norwegian continental shelf is the most important raw material for the refinery and oil terminal at Mongstad in Lindås, which has oil delivered from shuttle tankers and through pipelines.
The Sture terminal in Øygarden creates added value for oil transported to the terminal in oil pipelines from Grane and Oseberg. There are now plans for the Sture terminal to also receive oil from Edvard Grieg from November 2015.
The Kårstø gas processing plant in Tysvær is the largest in Europe and the world's third-largest of its kind. It is connected to around 30 fields on the Norwegian continental shelf. The plant refines rich gas into a pure liquid product sold on the world market, while the dry gas is transported in pipes to the Continent.
The Kollsnes gas processing plant in Øygarden is a hub for the export of Norwegian gas, and about 40 per cent of all Norwegian gas passes through the plant.
At Kårstø and Kollsnes, Equinor is the technical service provider (TSP) for Gassco, which is the operator for the owner, Gassled. 
Gassled is a transport system consisting of several platforms and more than 8,000 kilometres of pipelines.
In addition, we have seven supply bases along the coast that provide important knock-on effects in their local communities.
We market and sell our own gas in addition to the government's SDFI volumes, in total around 70 per cent of all gas from the Norwegian continental shelf. This makes us the second-largest exporter of gas to Europe, where we have a market share of around 15 per cent.
The modern oil adventure: Johan Sverdrup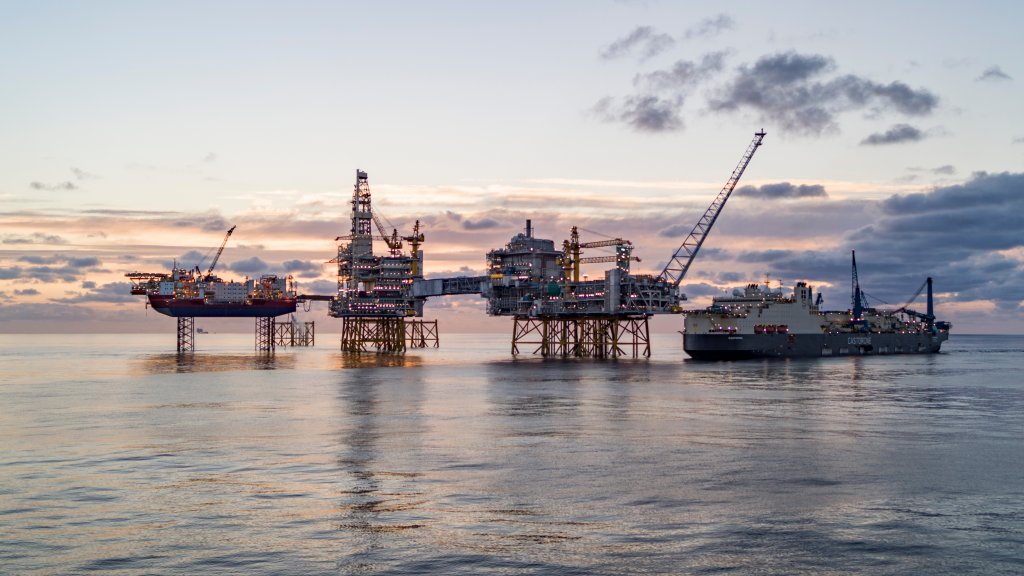 Nearly 130 years after the Norwegian Prime Minister Johan Sverdrup became known as the father of Norwegian parliamentarism, his name was linked to the largest Norwegian oil discovery in recent times.
Johan Sverdrup was found in some of the first licences awarded on the Norwegian continental shelf. With its 1.7–3.0 billion barrels of oil, the field is one of the largest and most important oil finds globally in the past decade. At plateau, the field will be responsible for around 40 per cent of oil production on the Norwegian continental shelf, and it is considered a giant field.
The gas and oil giant Troll

Troll is the largest gas find in the North Sea, and is a cornerstone of Norwegian gas production, with as much as 60 per cent of the reserves in Norway. It is also one of the largest oil fields on the Norwegian continental shelf, producing more than 400,000 barrels a day. The field is developed with three platforms: Troll A, B and C, which are all operated by Equinor. Troll A produces gas sufficient for 10 million households in Europe, while Troll B and C produce oil.
At 472 metres, Troll A is the tallest man-made construction to have ever been moved. The field started production in 1996, and the installations have an estimated operational life of at least 70 years. Because the oil-bearing layers in the Troll field were so thin, nobody thought it would be possible to extract the oil. However, thanks to the development of advanced technology for horizontal wells, Troll B and C produce high volumes of oil from the thin oil-bearing layers in Troll West. 


On the Norwegian continental shelf, the increased extraction of oil and gas from existing fields is as important for the total production as exploring for new oil and gas deposits. The Åsgard subsea compressor, which will increase the pressure in the reservoir, thus providing a higher level of recovery, is therefore very significant to the development of the oil and gas production of tomorrow in Norway. It is also the latest addition to global technology breakthroughs.